- "Newspapers, are published for the sake of business but I have started the 'Jang' to serve the public.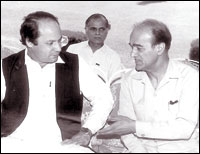 - "Jang is not my personal property it belongs to the public."

- "At first, my enemies targeted my office but now the condition is such that they wake me up at night by calling and cursing me on the telephone. I'am receiving continuous threats by various elements who insist that their news should be given greater importance than the news about the Prime Minister. I promise to you that I will give away my life but would not give in to such threats. I believe in the just and fair treatment of news."

- "I have seen this country go through many ups and down but seeing the Pakistani army retreat in Dakah shocked me the most. It is indeed a great tragedy and I don't have words to express my grief. As a journalist I think freedom of press means that I should have the freedom to write what I want. I should be given the opportunity to express myself. I should be free from any kinds of constraints and fear of being boycotted by the people or my office being attacked."

- "Journalism is not politics. There is a difference between the two. Reporting is a part of journalism therefore I should be free to write what I think is right. But with this I'd like to add that it is not necessary what I consider right may always be correct. I should be able to write and express myself without any fear, this is the freedom of press."

- "I'd like to advice the youth to develop a habit of reading newspapers. Newspapers have progressed in Pakistan but we still need to go a long way. Our youth does not have healthy reading habits. If they decide to pursue journalism as a career then they should develop a practice of extensive reading. This reading should not be confined to just books but other reading material as well. It is difficult to progress without this. The future of journalism is in the hands of our youth. The world is changing fast and if we don't change with it we will lag behind."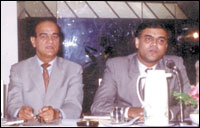 - "Students on one hand are knowledge seekers and on the other are civilians. They should seek knowledge to the best of their abilities. They should remember that they are free to have their own political orientations and point of views. However, they should keep the political activities outside the premises of the educational institutes otherwise it will have a negative effect on the educational system and the institute itself."

- "The best news for me was the news about the creation of Pakistan and the worst news was the news about the split of East Pakistan."

- " During Quaid-i-Azam's lifetime there were no Sindhis, Balochis or Punjabis, there were only Pakistanis."

- "Our country has given us a lot but sadly we have given nothing to it."
- "Freedom of press means to be able to write freely about the policies and wrong- doings of the government without having to compromise on principles."

- " O Allah I play to you for my forgiveness and for the forgiveness of my family, relatives and all the Muslims. I pray to you for the welfare of my newspaper so that it succeeds and continues to serve the nation."

- "If your report consists of any word that may invite the anger the people or endangers the defense and integrity of Pakistan then it will be edited, but other than this if you write against government policies or express your opinions on social, political and economic issues, my agency and me won't object to it and no one would edit a single word from it."

- "A journalist can work for one organisation or the other. But the truth is that a newspaper agency cannot function without journalists."

- "Always write the truth even if it is against me. Even if someone files a case against me for writing the truth, I'm willing to face it."

- "Always deliver the newspapers on time. If today's newspaper is not delivered today it will become useless."

- "I have three sons. One of them is Javed the second is Shakeel and the third is 'Jang' which I love like my own son."
- "I try to stay involved with all the departments of my newspaper from production to distribution."

- "I am a worker by nature and it is very difficult for me to get rid of this aspect of my character."

- "I did not have any role model in my family whose footsteps I followed to become what I am today but my sons have me as an example."

- "We are constantly receiving reports about the violence and coerciveness of the Indians forces on the Muslims of the occupied Kashmir. These barbarians do not care about human rights, ethics, culture or emotions. They are an army of miscreants who are constantly targeting innocent men, women and children. They have crossed all the limits and have even desecrated the Holy Quran. Ironically, this army belongs to a country, which has a secular government and claims to consider all religions equal. Even Hitler's army didn't stoop to this level."

- "I had the dream and wish to participate in the movement for Pakistan. Working for the creation of Pakistan meant a lot to me. One way to contribute to Pakistan's creation was to join the various flag bearing groups and participate in rallies but this was against my nature."

- "My father enrolled me in the commerce faculty. One of my subjects was short hand and typing. It was because of these subjects that I found a job. Studying commerce really helped me professionally and is still helping me uptill now. I think the head of a newspaper agency or a manager who has studied commerce can do his job effectively."