Looking at the current scenario, this January I remembered Mir Saheb more than ever. Almost sixteen years have elapsed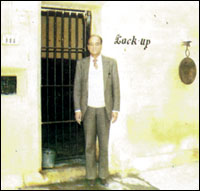 since Mir Khalil-ur-Rahman, the founder and editor-in-chief of 'Jang' and other Jang Group publications left us for his heavenly abode.
Unlike the other press barons and owners of newspapers, Mir Saheb was not just the owner of his newspaper but was also a full-fledged journalist and a working editor. Being the owner, chairman and an editor he was fully aware of the potential and worth of each and every journalist, para- journalist and also the non-journalists employed by his company. He kept an eye on the performance of his staff, so that no one suffered or unjustifiably benefited due to inaccurate evaluation of their performance. He would himself judge and evaluate every new entrant.

Out of more than four decades of my journalistic career, I spent almost sixteen years under the guidance of Mir Saheb. Although I did not work directly under him, still I learned a lot about journalism and life management in general, under his guidance.
Mir sahib was of the opinion that a journalist should not only be concerned with reporting and writing but should be aware of all the other facets of journalism. In this regard, Mir saheb, himself, was well versed with all the areas of journalism and took an active part in all activities, from translation to radio monitoring, editing to reporting, proof reading to copy pasting, editorial writing to writing headlines.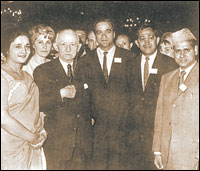 After the debacle of East Pakistan, Pakistan People's Party came to power and its chairman Zulfiqar Ali Bhutto, who later became the President and then Prime Minister of Pakistan, took out a procession that culminated at Kakri ground where a large public meeting was held late after midnight. Mir sahib himself traveled with the procession and narrated the whole story in his report. During the journey to the Kakri ground Mr Bhutto addressed the gathering quite a few times but the final speech was delivered at the Kakri ground in Lyari. It was no surprise that the next morning 'Jang' was the only newspaper that carried the news about the procession along with important announcements from Mr Bhutto's speech.

Mir Saheb dedicated approximately four decades of his life to journalism. Although he was the owner of the paper and was not answerable to anyone, yet he would come to the office early around 11 am and would remain 'on duty' till 2 am. After that he would be available on the phone till after the final copy was sent to the press. Even at 3 am in the night he used to pick up the phone at the second or third ring. While at office, he remained in touch with different stations of 'Jang' and monitored various radio news bulletins himself.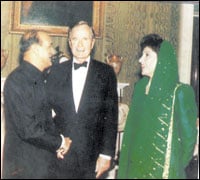 When I was night shift incharge in Jang Karachi I did not remember a single instance when I phoned him at midnight at his residence and did not get a reply with first or second ring. He always called the night incharge after eleven in the night to find out about the latest news. He would directly phone the night shift incharge as he knew that the creed landed at night desk.
Decades back when there were not many telephones in the office and the one in the office developed some fault. He tried but failed to contact me. He made enquiries at the telephone exchange and was informed that there is nothing wrong in the switch room and there might be a break in the line in the office and a line man would be sent to check the problem in the morning. Upon hearing this, Mir sahib immediately drove to office and entering newsroom asked me about the phone.

When I told him that a complaint had already been made he said, "Humayun Saheb what type of journalist you are? You cannot fix a phone line?" With this remark he knelt down and went on to check the wiring himself. After about ten to twelve minutes he found the broken wires and joined them back after which the phone started working. This incident taught me a great lesson that I should also develop a technical know-how in order to perform my day-to-day duties effectively.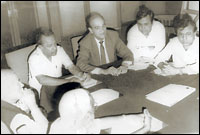 Mir Saheb was very keen to get exclusive stories for 'Jang' and went an extra mile to get it. .As I stated earlier that he himself covered Bhutto Saheb's procession for the sake of exclusivity and therefore, 'Jang' was the only newspaper to publish the story the same 'morning' as the public meeting ended almost in the early hours of the morning. The news about Bhutto's execution was also published in the regular issue of 'Jang' and it must be mentioned here that the famous BBC reporter, Mark Tully was in the capital with other renowned foreign correspondents to cover Bhutto's execution, but on a local level 'Jang' was the only newspaper which published this story the same morning, while others had to publish special supplements. Earlier when general Zia-ul-Haq, Chief of Army Staff, deposed Prime Minister Z A Bhutto and took over, it was again 'Jang' that gave this story in its regular issue the same morning while other newspapers had to publish supplements.

Throughout these events Mir Saheb personally supervised the reporters and journalists covering the events and remained awake until the paper was printed and delivered to the hawkers.

The word "rest" or "leisure" were not in Mir saheb's dictionary. He believed in hard work and worked for fifteen hours everyday. Back then Eid used to be the only official holiday, but later APNS put forward a proposal for two holidays on Eid which was supported by Mir Saheb so that he too could get some rest.

Through his untiring hard work and constant struggle Mir sahib not only made 'Jang' Pakistan's largest and greatest newspaper but also the largest Urdu newspaper of the world.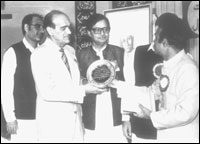 Mir Khalil-ur-Rahman received a number of awards for his outstanding services in the field of journalism
1978 - Gold Mercury International Award, Mexico
1983 - Merchant Navy Officer Award
1985 - Writers Forum Award
1985 - Iqra Award
1985 - Baladi Award, the UAE
1987 - Nishan-e-Behbood
1987 - Pakistan Movement Award
1987 - Quaid-i-Azam National Award
1988 - Honourary degree of Ph D, Sri Lanka
1989 - Performance Award
1989 - Quli Qutub Shah Aalami Award (given at International Urdu Conference), New Delhi
1990 - Art International Award (Best editor-in-chief award), Dubai