Back to Main Page
Mir Khalil-ur-Rahman, as I knew him
By Sharif Farooque
Translated from Urdu by Sheher Bano
Every civilised nation in the world has produced individuals who serve as its torchbearers in different fields. One such field is the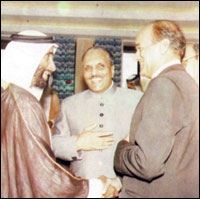 media, which has created a unique and prominent place for itself over the years. As a result, this field, which in the early civilizations was only limited to a certain region, has turned the world into a global village. The publishing of various magazines and periodicals has played an important role in making media reach its present prominent status.

In Pakistan, the person who has contributed the most to the field of media is undoubtedly Mir Khalil-ur-Rahman of Jang Group of Publications. It is not an easy task to encompass innumerable aspects of this multi-faceted personality, who has left lasting imprints in the field of journalism in a single article. So this article will only take a look at his personal struggles, far sightedness, distinctive thinking pattern and his active struggle for upholding the norms of good journalism.

It is a well known fact that Mir Sahib courageously started publishing "Jang" from Delhi in the undivided India, during the Second World War with very limited resources. The first issue of the 'Jang', which was displayed in Mir Saheb's room, in his small office situated at Burns Road, was proof of his tireless journey filled with sheer hard work. Though I saw this issue only once but I can never forget it. However, the very first issue of the 'Jang' cannot compete and gauge the unlimited expansion and success that the 'Jang' Group of Publications has attained today. This massive empire which, was once just a seed, has now turned into a strong fruit bearing tree and owes alot to the personal efforts of Mir Sahib, who himself used to carry and deliver bundles of newspaper in buses, railway carriages and sometimes even carried them on his own shoulders.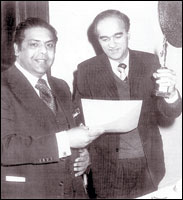 When Mir Sahib started "Jang" in Delhi he did not hesitate to distribute the paper himself, like any other common newspaper hawker. It is this hard work, which has become exemplary and eternal and is the secret behind Mir Saheb's unmatchable success.

As far his relations with his co-workers and the acknowledgment of their services are concerned, it is a well-known fact that he always recognised their services and treated even the junior employees of his office with the same amount of respect that he offered to other colleagues and co-workers. It was this trait of his personality, which helped to promote love and fraternity among his employees.

The Bureau Chief of Jang Peshawar, Iftikhar Ali Khan, has many anecdotes to quote, which depict MKR's kind and friendly relationship with his employees. According to Iftikhar Ali Khan, "Mir Sahib was a humble and affectionate person and it will not be an exaggeration to say that he had the qualities of a Dervish. Whenever he attended high profile meetings convened by the VVIPs of Islamabad, he preferred to stay with his own colleagues, because he never considered himself to be superior to them. This gave the workers immense satisfaction and sense of importance. Whenever he came to Peshawar he would meet me like any other visitor. He never made me feel that he was the owner of this organisation."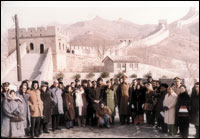 Mir Saheb not only appreciated the good performance of his workers but also proactively encouraged them. "When we used to have a meeting with him, it seemed as if we were meeting a kind and loving person. However, rightfully enough, if a worker was unable to improve his performance, despite his repeated reminders and guidance, he would skillfully devise ways to getting rid of him without hurting his self-respect," says Iftikhar Ali Khan.

Besides maintaining a friendly relationship with his colleagues and friends, Mir Saheb would always keep an eye on good writers, poets, critics and literary personalities associated with the field of journalism. It was these gems that later played an active role in furthering the development of "Jang".

It was due to Mir Saheb's ability to identify such talent that renowned names like Rais Amrohi, Majeed Lahori, Ibrahim Jalees, Shafi Aqeel, Mehmood Sham and Irshad Haqqani were brought in the field of journalism. Besides this, he also succeeded in acquiring the services of the well-known columnists of the country, among whom the most prominent names are of Jamiluddin Aali, Ataul Haq Qasmi, Dr Safdar Mehmood, Nazeer Naji and Asghar Nadeem Syed. As a result of his efforts, now even the world renowned personalities show interest in publishing their special articles in Jang group's publications.


Following in the footsteps of his father, the milestones achieved by the able son of Mir Khalil-ur-Rahman, Mir Shakeel-ur-Rahman, in the print as well as electronic media, have also become a part of our national history. Similarly, Mir Javed-ur-Rahman has also succeeded in making the weekly magazines "Akhbar-i-Jahan and "Mag" important assets of the Urdu and English world.

It must not be forgotten that in 1940, when the Pakistan movement took a new turn, Mir Saheb became an avid supporter of the cause led by the Quaid-i-Azam, from the beginning till the creation of Pakistan. There was a time when he even had to go to jail in this connection.

When Pakistan was created, it was Mir Saheb's far sightedness, association and love for Pakistan that he immediately migrated from Delhi to Karachi. Here he started 'Jang' with the limited capital that was available at the time. At that time there was a dire need to organise the media in Pakistan. It will not be out of place to mention that besides 'Jang', daily 'Anjaam' was also shifted from Delhi to Karachi. The journalistic services of this newspaper are also unmatchable and are a golden chapter in the history of Pakistan.

Back then, Dawn was already working under the patronage of the Quaid-i-Azam, who highlighted the importance of printing the English Daily Dawn even before partition as he was fully aware of the importance of English language. It was also due to this, that the newly-born state and its leaders appreciated Mir Khalil-ur-Rahman's decision to publish "Jang" from Karachi and they spared no time in taking an active part in the development of this newspaper. However, as far as presenting civic issues in a bold manner is concerned, "Jang" also left no stone unturned to highlight these issues in its day to day issues.

Mir Saheb had a multi faceted personality and soon established his significance among major countries of the world especially the Muslim countries. This is evident from the fact that for his exemplary services in journalism, Mir Sahib was a recipient of numerous awards of appreciation, perhaps more than any other individual in the journalistic history of Pakistan.

It is important to mention that when Pakistan movement was at its peak the Hindu press started targeting Quaid-i-Azam and other Muslim leaders, sparing no opportunity to assassinate their character. As a counter approach, all Muslim publications in India founded a journalistic organisation, under the guidance of the Quaid-i-Azam. Mir Sahib took an active part in the organisation. The same very organisation after the creation of Pakistan, has been still serving the country in different shapes and forms.
It is said that a person can be judged properly either in jail or in rail. I had the good fortune of traveling with Mir Sahib and other prominent personalities when they toured different countries. I observed that Mir Saheb was more concerned about the comforts of his friends than his own. As a matter of fact Mir Saheb had his acquaintances and fans in almost every big city of the world but he never hesitated to introduce us to these people.

Despite being very rich Mir Saheb never spent lavishly, however, if he ever found out that any of his friends or colleague was under some financial constraints, he did not spare a moment to extend his help quietly.

Whenever he came across a talented journalist, he never cared about money while acquiring his services for his organisations. This policy of Mir Sahib helped his organisation reach the pinnacle of success. He would not only keep himself abreast of the latest technological innovation in the field of media, but also eagerly employed this technology in his organisation. It was due to this reason that he introduced "Noori Nastaliq" and "Multi-colour printing system" for the first time in Pakistan through his famous publications of Jang group.

Mir Sahib possessed various attributes and qualities and the branches of the very same attributes have spread and have been developing along the length and breadth of this country in the form of print and electronic media.
Back to Main Page