A FORCE TO RECKON WITH
By Uzma Batool
As Allama Iqbal said: "The highest art is that which awakens our dormant will-force, and nerves us to face the trials of life manfully. All that brings drowsiness and makes us shut our eyes to reality around us, is a message of decay and death."

Following in the footsteps of Iqbal, Mir Khalil-ur-Rahman with his absolute will force, single handedly raised an empire known to us today as Jang Group of Newspapers. It was due to this achievement that he received the title "Father of Urdu Journalism", from his many admirers.
Mir Khalil-ur-Rahman was a self made man who nurtured his newspaper, Jang, from extremely modest beginnings, but later made leaps and bounds and reached the pinnacle of journalism. It is impossible to talk about Urdu journalism without shedding some light on the life of the undisputed king of modern journalism, Mir Khalil-ur-Rahman.
Mir Khalil-ur-Rahman s legacy in Pakistan is the well established Jang Group of newspapers which is published from all major cities of Pakistan. Mir Khalil-ur-Rahman s journalistic career spanned over an unprecedented 52 years. He was not only the owner and editor-in-chief of the well-established Jang Group of Newspapers, but also became a committed reporter in his fervent pursuit of journalism, as and when it was required. One can witness his complete devotion towards his profession with the fact that because of financial constraints in the beginning, he would himself circulate newspapers, traveling from one corner of the city to another.
As a newspaper, Jang was devoted to the cause of the Muslims freedom struggle. Mir Khalil-ur-Rahman stood shoulder to shoulder with the Quaid-i-Azam in the freedom movement and in his quest to make this newspaper prominent among Muslim readers; he countered the organised Hindu press which was determined to incapacitate Pakistan movement and opposed the Quaid-i-Azam.
Consequences were never easy and he had to face immense hardships including getting arrested and thrown in jail. Whereas his press was burned down by fanatic anti Muslims Hindus in 1947. But he never bowed down to the whims of the British colonists until Pakistan appeared on the world map with its full splendour. Almost losing everything in Dehli, later in Pakistan, he started his newspaper from a scratch and through his sheer hard work; dedication and above all national interest steered and elevated "Jang" to its current position.
In his long and illustrious career, Mir Khalil-ur-Rahman carved a niche for himself in the arduous history of the struggle for press freedom in Pakistan.
It s a known fact that state, politics and journalism are not always on good terms with each other but Mir Khalil-ur-Rahman worked moderately not being overly critical yet not becoming a "yes-man" to the government actions. After independence, when the Quaid-i-Azam was greatly delighted on hearing that Mir Khalil started his publication in Pakistan.
He worked tirelessly for a free and fair press which reflected a sense of balance and fair play. He followed a meticulous policy of presenting news and reviews in lieu of all shades and opinions, making him an impartial professional.
Mir Khalil-ur-Rahman was a firm believer in Pakistan and was a thorough patriotic person. True to the ideology of Pakistan, he always spoke out and wrote strongly to defend the country s ideological basis and its destiny as a Muslim nation. He loved Pakistan with the passion of a devotee and he always wanted his newspapers to be Pakistan s heralds of good news.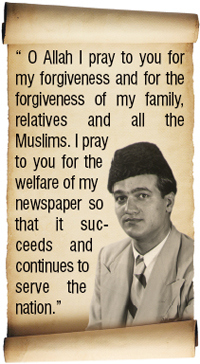 Mir Khalil s institution was like an academy and many people including poets, intellectuals, authors and analysts had the privilege to write for this prestigious newspaper. No other newspaper had given such freedom to their writers to speak their mind out without any hang-ups. Plus many established and esteemed journalists later went on to make their own newspapers and magazines, emerging as leaders in their respective fields. Hence, Mir Khalil-ur-Rahman played a critical role in development of print media in Pakistan.
Mir Saheb is not merely the name of an individual but the name of an era, who dedicated his life to the promotion of journalism.
Mir Khalil-ur-Rahman was constantly on the look out for state-of-the-art technical facilities. While he shifted his office to Karachi, fast paced Mir Khalil-ur-Rahman could not deal with the slow and time consuming printing machines. Unable to deal with this sluggishness anymore, at last he in 1952 spent considerable amount of money on importing modern printing machines, cameras and scanners from Germany, the United States, Great Britain and Japan.
Mr Zulfikar Ali Bhutto s execution is one apt example where despite, Islamabad bureaucracy refraining him to publish the news, he went ahead with his job. Another befitting example can be Lal Bahadur Shastri s death in Taskent few hours after signing the Taskent declaration. Same goes for Mir Khalil-ur-Rahman s copious and factual reportage from China in the Jang s columns which laid the foundation of Sino-Pakistan friendship. All thanks to Mir Khalil-ur-Rehman for giving second to second vivid picture of the calamity struck Indian camp. It was his brisk way of journalism that played a critical role of building Jang into a whole empire.
Last but not the least; despite the power and prestige Mir Khalil-ur-Rahman acquired in Pakistan, his life was a model of simplicity and humility. Mir Khalil-ur-Rahman is known to be a very humble and a much grounded persona whose philanthropic works are recognised within organisation and out of it. He kept a very good rapport with his workers and colleagues and acted as motivating force to present something exclusive.
He played an active and useful role in the publishers and editors organisations in Pakistan such as the APNS and the CPNE. Such are his great merits.
Hence, it was his complete honesty with his cause that made the great man that he was. When asked how his publication became such a huge success, Mir sahib answered its all because we believe in delivering the best and for us, the quest for betterment is of paramount importance.