A JOURNALIST WITH A CAUSE
By Muttahir Ahmed Khan
It is, once again, a matter of great honour for me to write about and to pay tribute to Mir Khalil-ur-Rahman, one of the most excellent journalists of the 20th century, on his 20th death anniversary. I have always dubbed Mir Saheb as an institution in himself and a great source of learning and training for his successors and disciples. When we look back on his personal and professional life, we come across a man of dedication, will power, courage, hard work and well-defined goals. Journalism was not a job, an employment, a business or a source of livelihood for him; instead, raising voices for the masses' issues was his passion, commitment and social responsibility. During his long career as a proficient journalist, many times, he had to set his life, family, health and wealth at stake in the line of his devotion to continue struggle for social justice and humanity, but he never got shaky or disheartened and braced bravely against all odds of life.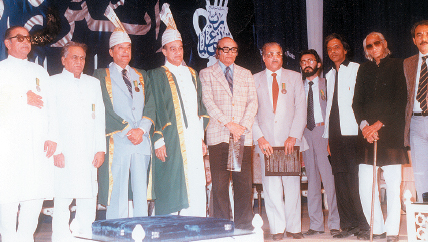 He was dubbed as the Benjamin Franklin of Pakistan, by many scholars and journalists, for his services for the society and the social rights and masses' development. Like Benjamin Franklin who succeeded in making his newspaper possibly the best in the British-ruled colonies in the New World of that era, Mir Khalil-ur-Rahman enjoyed, within a few years, extraordinary success in making his Jang the largest-circulating Urdu daily in West Pakistan and further developed it into Pakistan's biggest newspaper empire.
Although the whole world of media has been revolutionised and unprecedented progress and expansion, in this field, has taken place in the modern century, Mir Sahib is still counted amongst the most shining stars in the galaxy of Asian media. Factually speaking, today's media groups or even a single small newspaper possesses exclusively qualified business managers, promotion managers and marketing managers etc., in addition to its editorial staff, but Mir Sahib was a combination of all these ventures and developed a big media group by performing all the duties himself from marketing, accounting, analysing to writing and advertising. It was possible only on the basis of his dedication, well-directed objectives and vividly guided course of action.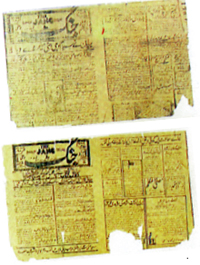 When he launched Jang from Delhi in quite difficult circumstances, he was not in possession of healthy budget or high fortune, but he had full conviction in his talent, dedication, will power and hard working nature. Generally a huge amount is required to launch an independent newspaper, but Mir Sahib overcame his economic deficit with the help of his creative abilities, talent and practical approach and set an example for the future journalists. He was a man of so many God-gifted qualities like foreseeing things going on around him, feeling the pulse of the society and evaluating the capabilities of each and every journalist working under his command. He would himself judge, evaluate and train every new candidate in order to provide his institution with skilled individuals and every individual with a solid platform and flourishing department.
Mir Saheb was a man of iron nerves and great courage for he had to bear many socio-political as well as economic pressures and crises on the basis of his objective journalism and strict adherence to "the Professional Code of Ethics". Senior journalist Arshad Imam has written about the legendary journalist, "Mir Sahib ran the largest news network of the country. And as we all know that the press and the government are natural adversaries. It was near to impossible for him not to face difficulties with the people in the helm of the affairs. But even in those times of crises Mir Sahib never let things go out of his hands." During Zulfiqar Ali Bhutto's regime, he had to face the anger of the state and the government for siding by the people and their struggle for basic rights and battle against injustice and inequality.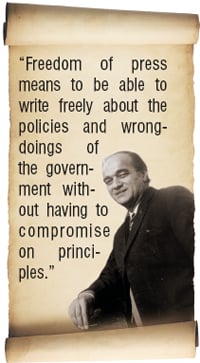 Despite being the owner of a premier print media group of the country, Mir Sahib never thought himself to be a Chief Executive or a special figure, but he always felt and proved to be a professional journalist whose first and the foremost duty was to work hard on collecting current news and information for his readers. Qutubuddin Aziz, well known scholar, educationist and journalist describes an incident about Mir's devotion; "In 1986, Mir Khalil-ur-Rahman was in the media group which accompanied the then Prime Minister Mohammad Khan Junejo during his official visit to the USA. I was then Chairman of the semi-Government National Press Trust (NPT) in Islamabad, running nine dailies, five weeklies and a monthly. After a visit to the White House, I noticed that Mir Sahib made a beeline for his room in the Hilton Hotel near Dupont Circle in Washington D.C. I presumed that he was overawed by sleep; most of us did feel tired after a very busy day. The next morning he told me that he devoted most of the night while writing a copious despatch for his publications. 'My readers come first and they must get the news quickly', he said to me at breakfast."
Mir Sahib never liked or chose to seek socio-economic shelter or political space under the umbrella of any influential state tycoon or swaying political party, and remained neutral, unbiased and honest in his life and career and earned everlasting wealth of respect and tributes that is still multiplying after two decades of his death. If he sided with any political party, it was All India Muslim League and he did that only for the sake of the Muslims as a community. After the creation of Pakistan, he never developed any bent of mind or tilt towards any party including Pakistan Muslim League. Driving home the point, Mir Khalil-ur-Rahman will always be remembered as a beacon light of objective journalism and a vindicator of social justice and welfare and, in the history of journalism, his name will blink as a legendary and epoch-making figure for ever.
—The writer is an educationist
A force to reckon with
By Uzma Batool
As Allama Iqbal said: "The highest art is that which awakens our dormant will-force, and nerves us to face the trials of life manfully. All that brings drowsiness and makes us shut our eyes to reality around us, is a message of decay and death."
Following in the footsteps of Iqbal, Mir Khalil-ur-Rahman with his absolute will force, single handedly raised an empire known to us today as Jang Group of Newspapers. It was due to this achievement that he received the title "Father of Urdu Journalism", from his many admirers.
Mir Khalil-ur-Rahman was a self made man who nurtured his newspaper, Jang, from extremely modest beginnings, but later made leaps and bounds and reached the pinnacle of journalism. It is impossible to talk about Urdu journalism without shedding some light on the life of the undisputed king of modern journalism, Mir Khalil-ur-Rahman.
Mir Khalil-ur-Rahman's legacy in Pakistan is the well established Jang Group of newspapers which is published from all major cities of Pakistan. Mir Khalil-ur-Rahman's journalistic career spanned over an unprecedented 52 years. He was not only the owner and editor-in-chief of the well-established Jang Group of Newspapers, but also became a committed reporter in his fervent pursuit of journalism, as and when it was required. One can witness his complete devotion towards his profession with the fact that because of financial constraints in the beginning, he would himself circulate newspapers, traveling from one corner of the city to another.
As a newspaper, Jang was devoted to the cause of the Muslims freedom struggle. Mir Khalil-ur-Rahman stood shoulder to shoulder with the Quaid-i-Azam in the freedom movement and in his quest to make this newspaper prominent among Muslim readers; he countered the organised Hindu press which was determined to incapacitate Pakistan movement and opposed the Quaid-i-Azam.
Consequences were never easy and he had to face immense hardships including getting arrested and thrown in jail. Whereas his press was burned down by fanatic anti Muslims Hindus in 1947. But he never bowed down to the whims of the British colonists until Pakistan appeared on the world map with its full splendour. Almost losing everything in Dehli, later in Pakistan, he started his newspaper from a scratch and through his sheer hard work; dedication and above all national interest steered and elevated "Jang" to its current position.
In his long and illustrious career, Mir Khalil-ur-Rahman carved a niche for himself in the arduous history of the struggle for press freedom in Pakistan.
It's a known fact that state, politics and journalism are not always on good terms with each other but Mir Khalil-ur-Rahman worked moderately not being overly critical yet not becoming a "yes-man" to the government actions. After independence, when the Quaid-i-Azam was greatly delighted on hearing that Mir Khalil started his publication in Pakistan.
He worked tirelessly for a free and fair press which reflected a sense of balance and fair play. He followed a meticulous policy of presenting news and reviews in lieu of all shades and opinions, making him an impartial professional.
Mir Khalil-ur-Rahman was a firm believer in Pakistan and was a thorough patriotic person. True to the ideology of Pakistan, he always spoke out and wrote strongly to defend the country's ideological basis and its destiny as a Muslim nation. He loved Pakistan with the passion of a devotee and he always wanted his newspapers to be Pakistan's heralds of good news.
Mir Khalil's institution was like an academy and many people including poets, intellectuals, authors and analysts had the privilege to write for this prestigious newspaper. No other newspaper had given such freedom to their writers to speak their mind out without any hang-ups. Plus many established and esteemed journalists later went on to make their own newspapers and magazines, emerging as leaders in their respective fields. Hence, Mir Khalil-ur-Rahman played a critical role in development of print media in Pakistan.
Mir Saheb is not merely the name of an individual but the name of an era, who dedicated his life to the promotion of journalism.
Mir Khalil-ur-Rahman was constantly on the look out for state-of-the-art technical facilities. While he shifted his office to Karachi, fast paced Mir Khalil-ur-Rahman could not deal with the slow and time consuming printing machines. Unable to deal with this sluggishness anymore, at last he in 1952 spent considerable amount of money on importing modern printing machines, cameras and scanners from Germany, the United States, Great Britain and Japan.
Mr Zulfikar Ali Bhutto's execution is one apt example where despite, Islamabad bureaucracy refraining him to publish the news, he went ahead with his job. Another befitting example can be Lal Bahadur Shastri's death in Taskent few hours after signing the Taskent declaration. Same goes for Mir Khalil-ur-Rahman's copious and factual reportage from China in the Jang's columns which laid the foundation of Sino-Pakistan friendship. All thanks to Mir Khalil-ur-Rehman for giving second to second vivid picture of the calamity struck Indian camp. It was his brisk way of journalism that played a critical role of building Jang into a whole empire.
Last but not the least; despite the power and prestige Mir Khalil-ur-Rahman acquired in Pakistan, his life was a model of simplicity and humility. Mir Khalil-ur-Rahman is known to be a very humble and a much grounded persona whose philanthropic works are recognised within organisation and out of it. He kept a very good rapport with his workers and colleagues and acted as motivating force to present something exclusive.
He played an active and useful role in the publishers' and editors' organisations in Pakistan such as the APNS and the CPNE. Such are his great merits.
Hence, it was his complete honesty with his cause that made the great man that he was. When asked how his publication became such a huge success, Mir sahib answered "it's all because we believe in delivering the best and for us, the quest for betterment is of paramount importance."
MKR: A treasure of information
By Abdul Hameed Chhapra
The 20th death anniversary of renowned and most respected journalist of the Indo-Pak Sub-continent and founder of the Jang Group of newspapers and journals Mir-Khalil-ur-Rahman will be solemnly observed on Wednesday 25th January, 2012.
Man is a mortal being, However, those individuals who dedicate their tireless efforts for the well being of their relatives, friends, colleagues as well as the society at large, are remembered for generations after generations, even after they depart to their heavenly abodes.
It is an established fact that Mir Saheb during more than 50 years of the 20th century contributed a treasure of information. Time and again this has been recognised by eminent personalities like veteran poet, banker and columnist Jamiludidn Aali, famous journalist and information minister in Pakistan's embassy (High Commission) in London. Qutubuddin Aziz, well known journalist and former chief of the Mass Communication Department of Karachi University Professor Dr Nisar Ahmed Zuberi, veteran journalist Farhad Zaidi and famous journalist and poet Shafi Aqeel.
This scribe had the good fortune of serving and learning from Mir Saheb's generosity for more than quarter of a century between mid-1960s to 1990s as senior reporter of Jang and columnist of Akhbar-e-Jahan and the Mag.
Mir Khalil-ur-Rahman was a collector who loved and strived to gather journalistic gems and jewels in his organisations. People like Syed Mohammad Taqi, Yusuf Siddiqui, Raees Amrohvi, Ather Ali, Inam Aziz and Shafi Aqeel are to name a few. Mir Saheb launched Daily Jang from Delhi, the then capital of the British India, during the Second World War (1939-1945).
Those who were lucky to learn from Mir Saheb, admit that Mir Saheb used to study a lot to keep himself abreast of the inventions and innovations in the field of printing and related technologies. It was due to this reason that Jang Group of newspapers and journalists were in the forefront and first to introduce latest developments in all fields of print industry.
It was due to his devotion and well mannerism that Mir Saheb was liked by almost every section of population since he used to keep himself in constant contact with people at the helm of affairs and also with ordinary citizens to learn about the problems faced by common people.
Mir Khalil-ur-Rahman embarked on his mission of informing people after 23rd March, 1940's Pakistan Resolution. Under the influence of the Pakistan Resolution presented on this date, the Muslims of India started the movement for the creation of Pakistan under the leadership of the Quaid-i-Azam Mohammad Ali Jinnah.
Pakistan's movement was ruthlessly and fearlessly opposed by the leaders of Indian National Congress like Pandit Javahar Lal Nehru and Sardar Walhab Bhai Patel. At that time Mir Saheb's contribution for the creation of Pakistan was commendable. He bravely faced all odds and even he was arrested and put behind bar.
All his life, Mir Saheb worked hard to achieve the level of perfection that he desired and wanted for his newspapers and journals.
Senior staffers and regulars like this scribe are witness to the fact that Mir Saheb used to work almost 16 hours daily. He would monitor almost all newspapers and magazines.
Mir Saheb who started from scratch was recognised as the most successful newspaper magnate about two decade before his demise. When the first dictator Gen Ayub Khan shifted Pakistan's capital from Karachi to Rawalpindi Mir Saheb also launched Jang's Rawalpindi issue along with Jang, Karach.
Mir Saheb launched English evening Daily News from Karachi which in a short period of time became the largest circulated eveninger beating the old eveningers like The Leader, Evening Star and The Comment in circulation as well as the readership.
In the early 1970s, Mir Saheb started publication of Roznama Jang from the capital of Great Britain London. Hence Jang became the only newspaper published simultaneously from Asia and Europe.
Editor of Daily News for the past 23 years S M Fazal was among those journalists who joined the newspaper in 1962.
Senior journalist Yunus Riaz who joined Jang in 1964 and served it in various capacities, praised Mir Saheb for his devotion and knowledge.
Pre-partition Urdu journalism owed a lot to stalwarts like Maulana Abul Kalam Azad, Maulana Mahboob Alam and Maulana Zafar Ali Khan. Since partition of India on 14th/15th August, 1947, Jang's contribution to Urdu journalism is incomparable and was praised by Pakistanis both locally and settled abroad for their monetary gains. Dr Nisar Ahmad Zuberi who served Jang group for more than two decades ranks Mir Saheb as undisputed "King of the Jang Empire".
Almost daily in the morning session Mir Saheb used to guide his staff members that Jang does not belong to any political party; he wants that every event in Pakistan, particularly in Karachi, should be covered in the newspaper, since its policy is to give coverage to every segment of the society. Mir Saheb used to say that Jang's policy is to redress the grievances of the masses. It is not in favour or against any political party or group.
Jang Group had to pay for its independent policies. On the instruction of military rulers and civilian despots the bureaucracy, used to pressurise Jang Group to toe the official line. From first dictator Gen Ayub Khan to third dictator Gen Ziaul Haq's reign, Jang had to brave intimidation almost every day. But Mir Saheb never compromised on principles and always stood for truth.
Veteran journalist S M Fazal who enjoys the decades of experience said Mir Saheb had the ability to attract those who had a natural desire to serve the field of journalism. In this connection he specially mentioned names like Shamim Ahmad (first Editor of Daily News), Khawaja Ibtisam Ahmad, Suleman Ahmad Minai, M T (Mohammad Tayyab) Bokhari, Zamir Niazi, Muhammad Ali Siddiqui and Wajid Shamsul Hasan (who remained editor Daily News from 1968 to 1988).
Mir Saheb had an excellent memory and he remembered the names of all workers of Jang Group whose number had increased to four figures with the passage of time. He used to redress the grievances of all workers and financially obliged everybody in their hours of need.
God bless Mir Saheb (Aameen)
—The writer is a senior journalist
In my grandfather's footprints
By Yousaf Rahman
Mir Khalil-ur-Rahman's 16-year-old grandson Yousaf Rahman spelled out his admiration so eloquently that his teacher wrote commendable remarks as she could actually feel the sincerity and hear his voice on the written words. Even though Yousaf has never seen his grandfather but the anecdotes of great respect and veneration his grandmother and parents feel for Mir Khalil-ur-Rahman are enough to make Yousaf aspire to follow his footsteps! His English teacher, Mrs Elizabeth Pelosi, who is an amazing inspiration for him to write, feels that Yousaf possesses the sincerity and voice required to be a successful journalist!
A person is inspired by at least one person who leaves a major impact and that person becomes his or her role model. For me that person is my grandfather, Mir Khalil-ur-Rahman. Through the power of words, he transformed millions of lives in Pakistan who were and are still gravitating in the stagnant waters of illiteracy; his whole life is an inspiration for me as he started from the grass root level and planted a whole forest for generations to come. He started from scratch and was a self- made and dignified man; through the power of his words he was able to enlighten millions and millions of people in Pakistan including me.
Unfortunately he passed away before I was born; however I have heard numerous stories about my grandfather, each one carrying its own legacy. One of the stories that I hear quite often and which really inspires me is about the time when my grandmother and grandfather were newly married; in their prime of youth, somewhat poor, and did not have much to spend. My grandfather was fairly educated and decided to start a small newspaper business in Delhi, India. He had limited income and scarce resources but still managed to carry on. My grandfather needed some capital so he contacted his uncle who was a noble man in India. His uncle saw his determination and agreed to lend him some money. He gave my grandfather Rs 5,000 which was a ton of money at that time. After getting the money my grandfather prepared the necessary arrangements of starting a newspaper called Jang which meant war and symbolised the public voice. He named it against war and for all the people that were fighting in Hindustan for freedom from the British. He used to work day and night trying to gather news. He had his own bicycle, and after every night of continuous handwriting since there were no computers at the time, he used to gather all of the newspapers, and sell it to everyone in his society. He was highly determined and plus he had a passion for journalism which made him never give up.
By the time India got its independence my grandfather had got a lot of fame. He had many people who had joined his newspaper and many other supporters as well. So when my grandparents migrated to Pakistan, my grandfather was able to successfully transfer his business as well. He set up a new industry in Pakistan and since many people knew about Jang from before they supported him. My grandfather's willpower and dedication to his work made him succeed. I would never be me if it weren't for my grandfather. He has, still, and always will influence and inspire me.
I find myself in his life since he is my role model. At times when I'm too lazy to work or when I just want to give up; I think to my self that "what would my grandfather do?" and immediately I get motivated and do what needs to be done by excelling in the particular work. I manage to get rid of my laziness and pull my self together in stressful times and give my best. To excel because I know that he is out there watching me and I do not want to disappoint him. My grandfather's profession was journalism and he excelled in it. I do not know what my profession will be as yet but what ever it will be I will put in the same effort in it as my grandfather once did in journalism.
I hope to one day continue the work that he started in erasing the illiteracy that continues to paralyze our nation. I intend to enter into our country's growing media industry and use the path of TV channels such as 'Geo' and 'Aag' to convey my voice and views to the struggling population of Pakistan. My grandfather's voice was a firm, powerful one which reached millions and the work that he began many years ago is what I dream of continuing. At a time when Pakistan is in dire need of reformation, I would feel proud to continue his legacy and make a difference in the lives of the people. I want to reach them. Educate them. Enlighten them.
My grandfather's personality was also one of a kind. According to my grandmother, my grandfather was a thrifty and sensible man. Sometimes when my grandparents used to go abroad for a vacation, my grandmother told me that he used to bring some money with him to spend just on her; he barely bought anything for himself. He was a down to earth man and still considered himself a common man. My grandmother said that she would be the one to splurge in jewellery or hand bags. Sometimes when she would get my grandfather something he used to get angry at her since he did not need it. His personality is highly commendable and really inspires me.
My grandfather's non-extravagant nature inspires me. My grandmother told me that after each day, when he was about to sleep, he used to make sure that all the lights were switched off so that electricity may be preserved. He also used to keep track of all the things in his position including his business. He never took advantage of the capital he had. My father told me that he and his six other siblings can live on the wealth that he earned by putting in his life and effort but my grandfather did not want his children to do so. He knew the importance of education for growth and prosperity and wanted his children and grandchildren to be highly educated. He also used to advise his children to work hard as he was also a very hard working man.
Like my grandfather, I also try to keep track of things that are going on in my house. Once when I was young I found out how much it cost to run the air conditioner in my room and I turned it off for about 2 days so I could save money. I try to be like him because I respect him a lot and because he is my role model; however, my own heart leads me to the other way and I do things that I should probably not by doing or buy really expensive things without any consideration about where that money actually comes from.
My grandfather's sacrifices for us are unimaginable; we are what we are today because of him. Without him being the way he was, my personality, my beliefs, my values in life, all would be so different, the life I have right now would not exist. Sometimes when I find myself lacking I remember how dignified and respected my grandfather Mir Khalil-ur-Rahman was and immediately react and think to myself whose grandson am I? And suddenly everything comes back rushing through my brain and I prevail.
Over all I believe that behind everyone there is at least one person that inspires them the most; for me it is Mir Khalil-ur-Rahman who started from scratch and ended up, through the power of pen and printing press, changed the lives of millions in Pakistan. He wrote fearlessly, he spoke only the truth and made sure everyone became aware of the truth. I too believe in honesty and spreading truth. He was a self-made and dignified man who I love and want to follow.