MKR: A TREASURE OF INFORMATION
By Abdul Hameed Chhapra
The 20th death anniversary of renowned and most respected journalist of the Indo-Pak Sub-continent and founder of the Jang Group of newspapers and journals Mir-Khalil-ur-Rahman will be solemnly observed on Wednesday 25th January, 2012.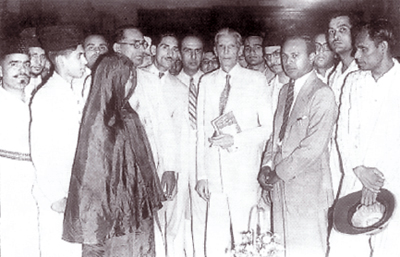 Man is a mortal being, However, those individuals who dedicate their tireless efforts for the well being of their relatives, friends, colleagues as well as the society at large, are remembered for generations after generations, even after they depart to their heavenly abodes.
It is an established fact that Mir Saheb during more than 50 years of the 20th century contributed a treasure of information. Time and again this has been recognised by eminent personalities like veteran poet, banker and columnist Jamiludidn Aali, famous journalist and information minister in Pakistan's embassy (High Commission) in London. Qutubuddin Aziz, well known journalist and former chief of the Mass Communication Department of Karachi University Professor Dr Nisar Ahmed Zuberi, veteran journalist Farhad Zaidi and famous journalist and poet Shafi Aqeel.
This scribe had the good fortune of serving and learning from Mir Saheb's generosity for more than quarter of a century between mid-1960s to 1990s as senior reporter of Jang and columnist of Akhbar-e-Jahan and the Mag.
Mir Khalil-ur-Rahman was a collector who loved and strived to gather journalistic gems and jewels in his organisations. People like Syed Mohammad Taqi, Yusuf Siddiqui, Raees Amrohvi, Ather Ali, Inam Aziz and Shafi Aqeel are to name a few. Mir Saheb launched Daily Jang from Delhi, the then capital of the British India, during the Second World War (1939-1945).
Those who were lucky to learn from Mir Saheb, admit that Mir Saheb used to study a lot to keep himself abreast of the inventions and innovations in the field of printing and related technologies. It was due to this reason that Jang Group of newspapers and journalists were in the forefront and first to introduce latest developments in all fields of print industry.
It was due to his devotion and well mannerism that Mir Saheb was liked by almost every section of population since he used to keep himself in constant contact with people at the helm of affairs and also with ordinary citizens to learn about the problems faced by common people.
Mir Khalil-ur-Rahman embarked on his mission of informing people after 23rd March, 1940's Pakistan Resolution. Under the influence of the Pakistan Resolution presented on this date, the Muslims of India started the movement for the creation of Pakistan under the leadership of the Quaid-i-Azam Mohammad Ali Jinnah.
Pakistan's movement was ruthlessly and fearlessly opposed by the leaders of Indian National Congress like Pandit Javahar Lal Nehru and Sardar Walhab Bhai Patel. At that time Mir Saheb's contribution for the creation of Pakistan was commendable. He bravely faced all odds and even he was arrested and put behind bar.
All his life, Mir Saheb worked hard to achieve the level of perfection that he desired and wanted for his newspapers and journals.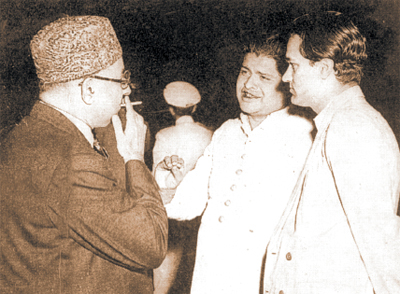 Senior staffers and regulars like this scribe are witness to the fact that Mir Saheb used to work almost 16 hours daily. He would monitor almost all newspapers and magazines.
Mir Saheb who started from scratch was recognised as the most successful newspaper magnate about two decade before his demise. When the first dictator Gen Ayub Khan shifted Pakistan's capital from Karachi to Rawalpindi Mir Saheb also launched Jang's Rawalpindi issue along with Jang, Karach.
Mir Saheb launched English evening Daily News from Karachi which in a short period of time became the largest circulated eveninger beating the old eveningers like The Leader, Evening Star and The Comment in circulation as well as the readership.
In the early 1970s, Mir Saheb started publication of Roznama Jang from the capital of Great Britain London. Hence Jang became the only newspaper published simultaneously from Asia and Europe.
Editor of Daily News for the past 23 years S M Fazal was among those journalists who joined the newspaper in 1962.
Senior journalist Yunus Riaz who joined Jang in 1964 and served it in various capacities, praised Mir Saheb for his devotion and knowledge.
Pre-partition Urdu journalism owed a lot to stalwarts like Maulana Abul Kalam Azad, Maulana Mahboob Alam and Maulana Zafar Ali Khan. Since partition of India on 14th/15th August, 1947, Jang's contribution to Urdu journalism is incomparable and was praised by Pakistanis both locally and settled abroad for their monetary gains. Dr Nisar Ahmad Zuberi who served Jang group for more than two decades ranks Mir Saheb as undisputed "King of the Jang Empire".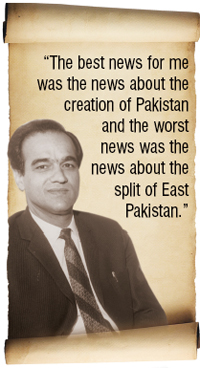 Almost daily in the morning session Mir Saheb used to guide his staff members that Jang does not belong to any political party; he wants that every event in Pakistan, particularly in Karachi, should be covered in the newspaper, since its policy is to give coverage to every segment of the society. Mir Saheb used to say that Jang's policy is to redress the grievances of the masses. It is not in favour or against any political party or group.
Jang Group had to pay for its independent policies. On the instruction of military rulers and civilian despots the bureaucracy, used to pressurise Jang Group to toe the official line. From first dictator Gen Ayub Khan to third dictator Gen Ziaul Haq's reign, Jang had to brave intimidation almost every day. But Mir Saheb never compromised on principles and always stood for truth.
Veteran journalist S M Fazal who enjoys the decades of experience said Mir Saheb had the ability to attract those who had a natural desire to serve the field of journalism. In this connection he specially mentioned names like Shamim Ahmad (first Editor of Daily News), Khawaja Ibtisam Ahmad, Suleman Ahmad Minai, M T (Mohammad Tayyab) Bokhari, Zamir Niazi, Muhammad Ali Siddiqui and Wajid Shamsul Hasan (who remained editor Daily News from 1968 to 1988).
Mir Saheb had an excellent memory and he remembered the names of all workers of Jang Group whose number had increased to four figures with the passage of time. He used to redress the grievances of all workers and financially obliged everybody in their hours of need.
God bless Mir Saheb (Aameen)
—The writer is a senior journalist