A PROFESSIONAL PAR EXCELLENCE
By Muhammad Humayun Aziz
The founder, owner, and editor-in-chief of Jang group Mir Khalil-ur-Rahman departed for his heavenly abode on January 25, 1992. During 36 years of my association with Jang group, I had the privilege of his guidance and patronage in pursuit of my journalistic duties. I had joined Jang as sub-editor but soon promoted as night shift incharge. Those days in Urdu newspapers, night shift incharge used to be a key figure as all the creeds of various agencies, important stories filed by reporters and correspondents and photos submitted by photographers all landed at his desk, and he, with the advice and directive of news editor, would distribute these for translating, editing and pasting on various pages.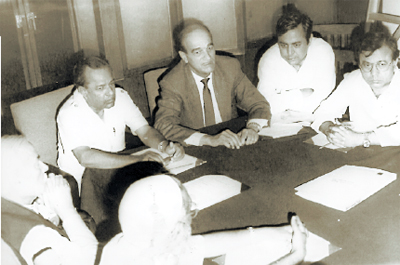 Mir saheb always remained in touch with the news editor and the night shift incharge to get first hand knowledge of the news .This is the period when I learned most from Mir saheb not only journalism but also the much-needed changes in life style in my capacity as shift Incharge. Mir saheb was not only the owner of newspaper but was also a thorough journalist — whether it was translation of news (in Urdu newspapers, translation from English to Urdu is very important as main news sources are usually in English), reporting of events, radio monitoring (there were no TV channels in those days), proof reading, event photography, editorial writing, etc he performed all these tasks at various occasions and it was because of these qualities he immediately spotted errors wherever occurred, and he remained aware of the worth of each and every journalist working in Jang. It was due to this knowledge about his workers he would write their ACRs himself.
When I was posted as district pages incharge, I came to know that the Tarzan serial appearing daily with cartoon images was being translated by Mir saheb himself. In those days it was a very popular serial. I sought Mir saheb's permission for translating this serial. On this Mir saheb told me that there used to be mistakes and readers would write letters . The serial had Urdu translation under the cartoon images and English version with these images. The main reason of translation error was that the translator had not read the whole story. I was a reader of Tarzan serial from my childhood and knew that after 25 years they again start from the beginning repeating the story. Mir saheb allowed me and was so satisfied that even after my transfer from district pages I had to continue translating Tarzan serial.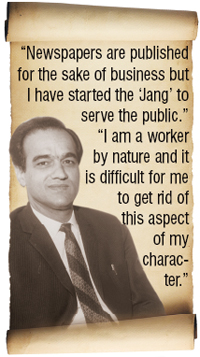 Mir saheb usually came to office around 11 in the morning and would remain in the office almost till midnight. After that he would remain in touch with all stations from his home till the last copy was sent to the press for printing. There were no news channels and 1.00 a.m. news bulletin of BBC was very important as it was the last main bulletin before the last copy was sent to the press. Mir saheb himself monitored this bulletin and the programme "24 hours" broadcast immediately after the bulletin. The "24 hours" comprised reports of BBC correspondents all over the world. After the end of bulletin Mir saheb used to phone me and ask whether we had monitored it or not. However, if we had missed it, because of radio monitor Aleem Durrani's absence or some other reason, Mir saheb would not mind and he would dictate us on phone all important news of the day.
Besides the radio monitoring, he at times he also reported various events. When late Zulfiqar Ali Bhutto came to power he went from 70 Clifton to Kakri ground in Lyari in a long procession. There he addressed a public meeting in the early hours of morning. Mir saheb accompanied the procession as a reporter and also covered the public meeting. Next day, it was Jang's main page headline and the whole story was written by Mir saheb himself all alone.
Mir saheb was was very supportive to his fellow journalists. A correspondent of the official agency APP narrated this story to me: "late president Gen Zia-ul-Haq was on a state visit to a foreign country. Mir saheb was among the journalists accompanying him. When Zia started the briefing the APP correspondent switched on his tape recorder. After the briefing, he went to his room to transcribe it so that he could send the story to his office back in Pakistan. But to his utter astonishment he found out that due to some technical fault not a single word was recorded. He was government news agency's correspondent and this mistake could have cost him his job. With white face he came out of his room. Mir sahab saw him and asked him why he was so upset? He told Mir Sahab what has happened. Mir smiled and asked him to come to his room, where Mir sahib dictated him the whole briefing.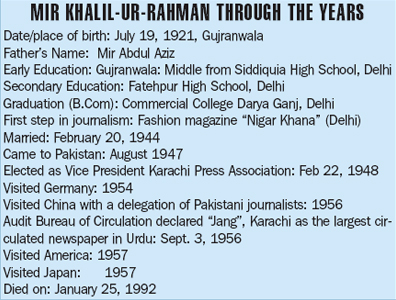 Mir saheb remained involved in all important events as they unfolded over the years. The day when Gen Zia-ul-Huq overthrew Bhutto's govt and declared Martial Law the initial information about it came at about midnight. The information was that secretary general of Pakistan National Alliance (Pakistan Qaumi Ittehaad) and a leader of Jamaat-i-Islami Prof Ghafoor Ahmad has been arrested. Jang Pindi immediately conveyed it to Mir saheb who alerted us. Then he himself started using his contacts in the higher echelons of power to get further information. Soon we learnt that Mufti Mehmud has also been arrested and Mumtaz Bhutto, Abdul Hafiz Pirzada and other federal ministers have been arrested too. By 3.00 a.m in the morning, it was almost confirmed that General Zia-ul-Huq staged the coup. Soon all the details were available but, off the record. Now the question was as to how the news could be given without official confirmation. Mir saheb found the way. He told us to get the story calligraphed and also the banner head line. He asked us to keep the copy ready and as soon the news is broadcast in radio Pakistan's early morning bulletin the copy should be delivered to press.
Mir sahib used to work from 11.00 a.m. till 03.00 am. After office hours, he remained available on phone at his residence. Even two hours after midnight whenever I called him he would pick the receiver at the second bell and would say 'khalil'. In those days, there used to be only one Eid holiday. When hawkers demanded two holidays on Eid Mir saheb supported them and said he would also get these holidays because he worked seven days a week and enjoyed holiday only when the newspaper did not publish.
-The writer is Resident editor, Jang London