THE LEGACY LIVES ON
By Sheher Bano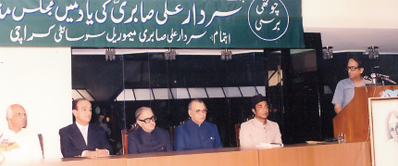 Christiane Amanpour says "I believe that good journalism, good television, can make our world a better place." In order to do good journalism, a journalist should possess a personality which becomes a role model for others.
In pre-partition India and later in Pakistan, many good journalists took the onerous task of informing, educating and giving awareness to people and moulding public opinion on important current issues through their writings. One such name was Mir Khalil-ur-Rahman, the founder and editor-in-chief of Jang group. "Mir Saheb"as he was lovingly called by his colleagues and friends, was an icon of modern Urdu journalism. There are many people in Jang group, who had the honrour of working with Mir Saheb and they cherish their memories. Arshad Sabri, Chairman of Mir Khalil-ur-Rahman Memorial Society, is one such name who has taken upon himself to convey Mir Sahib's message to the new generation, with every possible way. Sabri remembers every moment he spent with Mir Saheb.
According to him, Mir Saheb was a good natured, humble and caring person. A fatherly figure as he was, he always treated his employees as part of his family. He still remembers that back in 1986 a young boy Awais Gauhar, who later became the shift incharge in Jang, developed cancer in his one eye. The illness was not treatable in Pakistan and the boy was supposed to go abroad for treatment. He went to Mir Sahib and after listening to him, Mir Saheb asked as to when the illness was diagnosed? When he was told that it was done six months back, he showed his anger for not informing him earlier. However, when Awais told him that he didn't inform Mir Saheb as he was afraid of him, the grief-stricken Mir Saheb, stood from his seat and said: "Mian Awais you have been very unfair to me." While quoting Hadhrat Omar (RA) "If a dog near Farat will die with hunger I will be punished for that on the Day of Judgment", he told Awais that he considered it his duty to look after his employees. Mir Saheb, promised him to bear his entire expenses through personal pocket. Unfortunately, the boy later died without being treated, due to a delay in the paper processing.
Mir Saheb despite holding a high position in his group was very down to earth. He never hired a driver and would drive his car himself. However, sometimes on some important occasions, he would take Shams Hanafi, Director Operations Jang Group, with him. Shams, who was a prolific writer and came here to write Mir Saheb's biography, was his confidante and trusted man and at time would be his body guard. Later Mir Sahib started a column for him in Jang "Suraj ke Samney", which got very popular with the Jang readers.
MKR was a God fearing person and would do a lot of charity for poor and needy from his personal pocket. He never used office funds for such purposes. Whenever any body approached him for the marriage of a poor boy or girl, he would note down the address and would go himself to support them. Sometimes his wife would also give him an envelope for this purpose and he would deliver the same. Whenever Mir Saheb wanted to pay sadaqa, he would buy the animal and slaughter it himself
Due to his courageous stance on many sensitive issues, Mir Saheb never gained favour from high political figures. At times, he was also attacked by the rival groups due to his fearless writings. When the frequency of such incidents increased, Mir Sahib bought Shams Hanfi a pistol for his (Mir Shaib's) security.
According to Sabri, Mir Saheb promoted many young Naat khuwaan who later became the known figures. He was very fond of going to religious gatherings and would sometimes even refuse a political invitation for such a gathering. Probably in 1986, the then federal minster of information and broadcasting invited Mir Saheb to meet the president of Pakistan and asked about Mir Saheb's availability on a particular date. The minister also offered to officially bear all the expenses of Mir Saheb's travel. On this Mir Saheb told the minister that if he ever decided to go to Islamabad he would bear his own expenses and will not use government's expense. Then he told the minister that he would inform about his availability the next day after checking his schedule. It so happened that next day the renowned Naat Khuwaan Fasihuddin Suharwadi, who was a young boy at that time came with his father Riazuddin Suharwardi, who had formed Anjuman-i-Andaleeban-i-Riaz-i-Rasool (SAW). They used to hold a Mehfil-i-Milaad at Baghdadi Masjid, Teen Hatti, Karachi every year under this organisation. They had already sent an invitation to Mir Saheb, to preside over the function and had come to confirm his participation that day. Coincidently, this Milaad was on the same date when he was invited by the president. He received both the father and son with respect and after listening to them, he took a bold decision to accept the invitation to preside over Mehfil-i-Naat. Later he called up the minister and showed his excuse for not honouring the invitation as he had already consented to preside over the function in Karachi. Such was his straight forwardness and sense of professionalism. Though he knew the repercussions of refusing a high profile invitation, yet he didn't care for that. On this occasion he recited a couplet: "Shahoon ne Jhukai hai garden chaukhat pe ghulamon ki jiske; Hai jiski faqeeri bhi shahi wo shahe do aalam kiya hoga" and said "I am nobody to refuse the invitation of a gathering which is being held in the honour of the beloved prophet of Allah Mohammad (PBUH)"
As a thorough journalist, Mir Saheb was always a guiding light for his juniors. "His conversation always reflected journalistic insight. He left guiding rules in journalism for young generations to follow. He was a staunch supporter of ideology of Pakistan and never compromised on the sovereignty of his country. He inculcated true patriotism through his writings. To him 'A journalist is the one who has scholarly command on current issues.' While saying this he would mention great names like Maulana Mohammad Ali Jauhar, Maulana Hasrat Mohani, Maulana Zafar Ali Khan who emulated true professionalism and commitment."
To Mir Saheb a journalist is an all-rounder and in this connection he will cite the names like Mansoor Hassan Riaz (editor Manshoor), Rais Amrohvi, Yousuf Siddiqui (Executive editor of Jang) and Syed Mohammad Taqi who could make news, write editorials, analyses and do translation work with equal ease. Mir Saheb himself was an all rounder and would do reporting, news making and photography of any event simultaneously.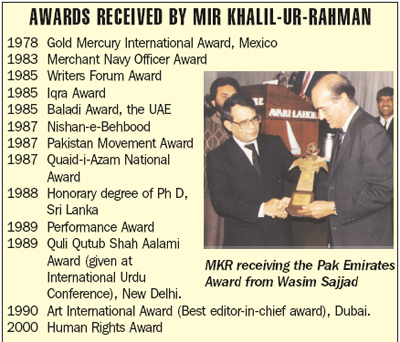 Mir Saheb developed good personal relations with people like Ch Khaliquzzam and his wife Zahida Khaliquzzaman. He had so much respect for Ch Khaliquzzaman that whenever he would come to meet him he would stand in his respect.
Mir Saheb introduced Urdu typewriter in his newspaper and probably, Pir Ali Mohammad Rashdi's first column was typed on this typewriter. This brought revolution in the newspaper printing technology after which he was given the title of "founder of modern Urdu journalism". Later Mir Saheb introduced Noori Nastalique for the first time in Pakistan. Then there was no looking back and Mir Saheb kept on introducing modern state-of-the-art printing technologies in his newspaper.
Mir Saheb was a committed journalist and despite being the editor-in-chief of the group his punctuality and regularity was unmatchable. "He was very punctual and would follow his schedule with Swiss precision. It will not be exaggeration to say that people would correct their watches when he would enter the office." He believed in hard work and achieving excellence was his motto. In the words of Henry Anatole Grunwald, "Journalism can never be silent: that is its greatest virtue and its greatest fault," Mir Saheb's action always spoke louder than his words. He was a trendsetter and set new records to make this world a better place to live.
—The writer is Editor supplements