MKR -An irreplaceable icon
By Hirah Siddique
A pioneer of journalism, a philanthropist, a media mogul and a staunch patriot - there really aren't enough words to define a great personality like Mir Khalil-ur-Rahman. Although he is no more alive, his legacy continues in the form of his immaculate work and the contributions he had made in making Pakistan a better and an intellectual society.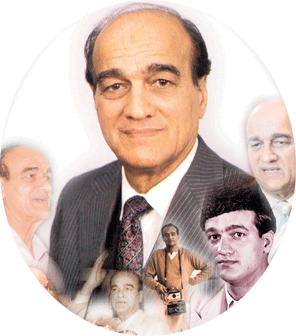 Certainly, it is the hard work which makes a man great. Who could have predicted that a person who started his career with a four-page newspaper would end up being the founder of the biggest media empire of Pakistan? Mir Saheb was a young man when his parents left him with nothing but younger siblings to look after. He used to make the entire paper on his own by listening to news on radio which was followed by extensive editing and then circulation via bicycle and all that just for a paisa. That is when he started with Jang; the reason behind this particular name was the fact that it came out at the time of the Second World War. Secondly, it referred to a struggle as Mir Saheb described it the struggle of Muslims for a separate homeland and Jang was nothing but the voice of the All India Muslim League. Since it was the only newspaper which started conveying Muslim League's viewpoint in Urdu, it received a remarkable response. What is more, Mir Saheb was put behind the bars for 23 days allegedly by the British Commission because, according to their claim, his paper provoked Muslims not to serve in the British Indian Army during World War II. Mir Saheb shifted the whole Jang set up to Karachi upon the creation of Pakistan.

Although we possess freedom of speech and democracy, a harsh reality is that authoritarian nature has always prevailed in Pakistan. The Pakistan Press has always withstood the tyrannical behaviour of the ruling party. Generally, it is always difficult for an institution to survive in such an ambiance but there was just no force which could stop Mir Saheb from succeeding, regardless of the circumstances. He believed in the true purpose of media and wanted to inform the masses. Therefore, he worked extremely hard for it. His paper always dealt with news in such as way that the masses were enlightened and at the same time, no chaos was triggered. Moreover, he never severely criticised any form of government or ruling party or showed one side of the picture only.

He was a balanced journalist, born with a nose for news. Mir Saheb was all the time busy in looking for newsworthy events, whether at work or at home. He believed in reporting everything with complete professionalism. There were only three principles he endeavoured to follow in his life -Islam, Pakistan and Urdu, and he strictly adhered to them. It was because of his true patriotism that he never opted for news which was against the integrity and sovereignty of Pakistan. He lived his life for Pakistan and its stability. Also, the love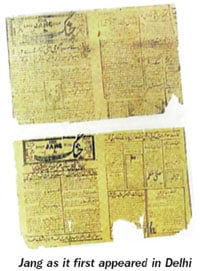 he had for Urdu was remarkable. Though, Moulvi Abdul Haq is knows as "Father of Urdu", it was indeed Mir Saheb's efforts that made Urdu an internationally recognised language. He launched an Urdu newspaper at a time when the said language was considered worthless among the elite class but with the passage of time, Jang became the most authentic newspaper in the country, enjoying wide readership.

He introduced new technologies to Urdu journalism like web rotary press, telex transfer of contents and computer calligraphy (Noorie Nastaleeque). His innovative ideas injected a new life into Urdu journalism.

Jang is an inclusive reflection of his personality -objective and unbiased. It was his assiduous passion which took his organisation to the zenith of success. This veteran journalist had witnessed almost all the international pacts signed by Pakistan and attended all the press conferences made on those occasions. Most importantly, he had seen the glorious moment of the establishment of Pakistan.
MKR considered the emergence of Pakistan as the best news of his life and fall of Dhaka as the worst. At the time of the partition of East Pakistan, Mir Saheb expressed his grief via a news headline, which said: Urdu ka Janaza hai zara dhoom se nikle" (Let the funeral of Urdu be carried out fervidly). This was asserted ironic by many people but only a few patriots could understand the somber message that the headline conveyed.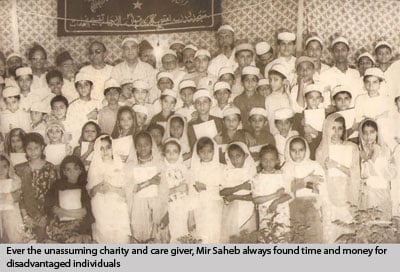 Although, MKR had been compared with Benjamin Franklin of the US, the former never had any political affiliation or inclinations. Of course, he did have good terms with political parties but he never leaned towards anyone. Although he was criticised from time to time by many top government officials and politicians for giving undue freedom of speech to his columnists, he used to defend his stance by saying,

"It's their (the columnists') own opinion based on facts."

At all times, Mir Saheb emphasised objectivity and stressed on showing both sides of the picture to the masses, so as to cultivate better public opinion. For this reason, various versatile and renowned journalists of his time considered it a privilege to work with the Jang Group.

As a matter of fact, journos have always looked up to Mir Saheb's example and regard him as an icon of the said profession in Pakistan. He was not only a true believer, but was also a self-starter. Also, there are very few wealthy people who prefer human values over money, and Mir Saheb was one of them. He was a philanthropist who believed that social work is indeed an investment, and would be rewarding even in the life after death. It has been more than 20 years since he left us, but hundreds of thousands of people still commemorate his achievements every year. Without a shadow of doubt, people like Mir Khalil-ur-Rahman are badly needed at this stretch of time but unfortunately, we have lost a gem of a person like him, for good!
I had the dream and wish to
participate in the movement for
Pakistan. Working for the
creation of Pakistan meant a lot
to me. One way to contribute to
Pakistan's creation was to join
the various flag bearing groups
and participate in rallies but this
was against my nature."