A journalist par excellence
By Abdul Hameed Chhapra
Mir Khalil-ur-Rahman was a man of great honour. Having spent considerable years of my life with him, I got a chance to know him personally, too. He was a practicing Muslim, and used to pray five times a day. Besides, he was also a disciplined man and always believed that time is money.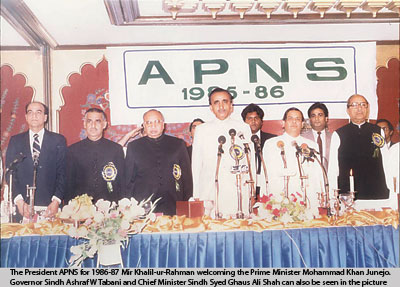 Founder of Jang Group's glorious newspapers like Daily News, launched in August 1962 and Akhbar-e-Jahan later on, Mir Saheb started his noble mission when he practically participated in the independence movement, under the leadership of the founder of Pakistan, Quaid-i-Azam Muhammad Ali Jinnah, exactly during Second World War (1939-1945).

Mir Saheb was a collector of gems among writers, as he used to praise and appreciate his columnists and boost up their morale all the time. That was the reason why he supported the most celebrated writers of his time and was always successful.

It is an established fact that Mir Saheb was a brave journalist, and this has been proved by the innumerable sacrifices he made during his struggle in British dominated India. Mir Saheb was arrested for his courageous stand on narrating facts and supporting those who used to practically believe in his noble ideas. It is another fact that during Mir Saheb's patronage, Tecnicolour Weekly Mag started being published under the editorship of SM Fazal (who has been serving as editor of Daily News for more than 22 years - the longest possible time from among founder staffers since 1962)).

Mir Saheb repeatedly declared that Daily Jang has no political agenda; the newspaper must publish views of every political party, without any bias, and give coverage to dissenting views. When the capital of Pakistan was shifted from Karachi to Islamabad, by General Ayub Khan, Mir Saheb, at the same time, started publication of Jang from interim capital, as well. During Mir Saheb's period, Jang started its publication from the British capital, London, too. Hence, it became the only newspaper to give coverage to news in Asia and Europe, simultaneously. Moreover, Mir Saheb fathered various projects, and with the mercy of Almighty Allah, each and every project brought him success.In order to upgrade the quality of his newspapers, Mir Saheb remained in touch with the latest development in the printing technology.

Apart from converting Daily Jang into long size 23x26, as early as in 1965, it was through Mir Saheb's perpetual efforts that Jang Group of newspapers and magazines achieved the longest publication and the widest leadership.

Mir Saheb never ever surrendered before the dictates of civilian despots and military dictators. Despite the fact that successive regimes had turned the ministry of information and used it for media coercion, Mir Saheb proved that he was a brave man as he always refused to succumb to pressures by government agencies.

Mir Saheb's younger son, Mir Shakil-ur-Rahman, also made sure to follow the policies adopted by his illustrious father. Mir Saheb represented the All Pakistan Newspaper Society (APNS) for a number of times. Similarly, he remained the Chief of Council of Pakistan Newspaper Editors (CPNE), representing his colleagues regularly.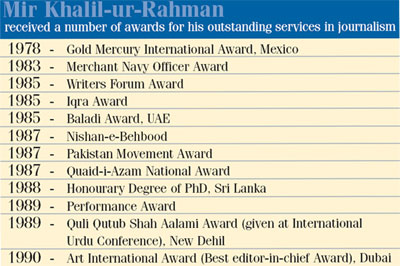 Not only was he a great professional, but he was also a good human being. Mir Saheb was a philanthropist as well and always supported his staff members, in their hours of need. I, too, learnt several lessons during my service with Jang Group newspapers and magazines, for about a quarter of a century. Mir Saheb was a proficient journalist. He used to travel regularly throughout Pakistan and abroad to keep himself abreast of the changes taking place around the globe.

He was the first editor-in-chief who used to implement Wage Board Awards before other owners of the newspapers. During his period, journalist calligraphists and press workers used to get (six bonuses), two at the time of Eid-Fitr, two on the occasion of Eid-ul-Azha and two at the time of Quaid-i-Azam's birthday on 25th December, every year. Additionally, he was the first in allowing formation of trade unions in his newspapers and magazines too, while other organisations have still banned formation of trade unions in their establishments.

Under Mir Saheb's patronage, the first trade union was formed in Jang, Karachi with Ahmad Ali Alvi as its president and Younus Riaz as the secretary.

Mir Saheb also used to attend the meetings of Jang unit of the Karachi Union of Journalists to acquaint himself of the ongoing problems so that he could take timely actions.

Mir Saheb started the publication of Jang in British India in early 1940s and the newspaper has been publishing facts since then. During the last three quarters of the century, Jang remains number one and the most trustworthy newspaper in Pakistan and abroad. All the credit for this achievement goes to Mir Sahib's ceaseless efforts during his struggle for presenting the truth to the readers. Mir Sahib believed in perseverance and that is definitely the key to success.

In a nutshell, Mir Khalil-ur-Rahman was a gem of a person, who persistently worked hard to uphold the truth and keep the masses informed. Mir Saheb will always be remembered for his matchless contributions in the field of journalism in Pakistan.
"Journalism is not politics.
There is a difference between the
two. Reporting is a part of
journalism, therefore, I should be
free to write what I think is right.
But with this, I'd like to add that
it is not necessary what I consider
right may always be correct.
I should be able to write and
express myself without any fear,
this is the freedom of press."