Down the memory lane
By Zaib Azkaar Hussain
From the beginning of time, historians have penned down the achievements of numerous prominent people in history. However, contributions of some people are so important that they are acknowledged not only for making history, but also for revolutionising t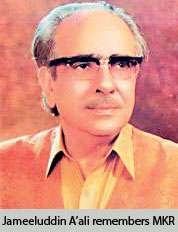 heir particular fields. And one such name, in the history of Pakistani journalism is of Mir Khalil-ur-Rahman. A person of great self-confidence and zeal, Mir Saheb is remembered by his friends and contemporaries in the warmest of thoughts. Every time he is discussed, newer aspects of his life are revealed.

There are many people in the literary world who have had the honour of working in Jang group at a time, when Mir Saheb was the captain of ship. They still cherish their memories, whenever they recall the time when they worked with him. Some of them developed personal relationship with Mir Saheb and are proud of their friendship and colleagueship with this great personality. One such eminent personality is Jamiluddin A'ali, the renowned poet, scholar, educationist, critic, researcher and columnist, and former senator.

Jamiluddin A'ali, who is lovingly called "A'ali Ji" by his close friends and colleagues, is not keeping good health these days. Yet, when he was contacted for an exclusive interview with The News to share his fond memoirs about Mir Saheb, he readily gave his consent.
Sharing his reminiscences about the man who rendered innumerable services to the field of journalism, A'ali saheb said: "Mir Khalil-ur Rahman was a greatly devoted and committed journalist. He dedicated most of his lifetime working for Jang, followed by Akbar-e-Jahan, Daily News, Mag and other dailies and periodicals. His endeavours culminated into the establishment of a great media house called the Jang Group, Pakistan's largest group of newspapers," recollects Jamiluddin A'ali while commenting on the role of MKR in the field of journalism.

Mir Saheb was a man of many qualities and all of his acquaintances have similar views when it comes to describing his personality. He was an exemplary character and was the personification of uprightness and perseverance in terms of his professionalism. Knowing fully the ethical norms of his profession, he kept his personality free from any political biases. "Mir Saheb had no political inclinations, as he was a true journalist who remained impartial throughout his life to uphold journalistic ethics in Pakistan. And his newspaper certainly proved his stance. His philosophy, undoubtedly, was to work hard and strive for upholding freedom of speech and expression, and he remained very successful in this regard," says A'ali while digging into the past.



Jameeluddin A'ali also mentioned that despite having experienced different political phases of Pakistan's history, Mir Saheb and his paper always carried out factual reporting of political events, and never succumbed to political pressures. "In fact, he was a man of a never-ending professional zeal. It's surely because of his hard work that Jang Group has attained such heights of success."

Jameeluddin A'ali also shed light on the fact that Mir Saheb introduced many fresh ideas to Pakistani Journalism. "For instance, earlier it was a common practice among newspapers to either publish some columns or a short report on literature. However, Mir Saheb introduced literary pages in his papers and periodicals, such as in Jang and Akbar-e-Jahan." While concluding A'ali sahib further added that Mir Saheb was a man with a wonderful personality. A kind human being with friendly nature, Mir Khalil-ur-Rahman would always be respected for his personality traits in the field of journalism.
Why Mir Saheb will be remembered
By Mohammad Arshad Imam
There are many ways to remember those who are not with us. Traditionally, we pay tribute to them by holding meetings, delivering speeches about their personal attributes, sharing their achievements, imprints and impressions that they might have left on their surroundings during their lifetime. And eventually, they are forgotten till another memorial occasion comes; then it becomes a matter that definitely differs from person to person both ways i.e. the people who arrange such occasions and the personality which is being commemorated. Having said all this, I believe there is another genre of human beings who are remembered because of their contributions towards life.


About greater people, there is a very wise saying that, as a result of their personal efforts, they leave the world in a much better shape as compared to the time they stepped into their practical life and started their struggle.

As I said earlier, personal relations, impressions and images vary according to people and their mindsets; sometimes so drastically that the role model of one man can be another's villain. However, this absolutely does not imply to real, great servants of mankind. They are commonly esteemed and honoured and that is usually because their work commands respect. Mir Saheb, in my point of view, is no doubt respected for his great contribution that he has made towards life, in this society of ours. A dynamic personality like Mir Saheb can never be consigned to oblivion. This can be contributed to the newspaper he founded in a very meagre position and later took to the zenith of success through sincere dedication, unmatchable hard work and professional integrity. Besides, he also left behind a team of true professionals who are sometimes, very rightly called, the best of their kind in the country.

We must and should never forget that the daily Jang and all other organisations of this group are (what they are today) only because their founding father was a great man -great not in terms of wealth but in terms of wholehearted devotion and commitment towards his profession. Mir Saheb was distinguished among his lot not because of the way he influenced others but for his integrity; he was dignified not for his personal stature but for his inspirational professional ideas, which he always achieved through his immaculate approach and untiring efforts. There must be a lot of other reasons to have memories about an entity like Mir Saheb but for people like me -a common citizen of this land -he will be always remembered for his flawless work.

"If your report consists of any
word that may invite the anger
of the people or endangers the
defense and integrity of Pakistan,
then it will be edited, but other
than this, if you write against
government policies or express
your opinions on social,
political and economic issues, my
newspaper and I won't object to
it and no one would edit a single
word from it."