A trendsetter in Pakistani journalism
By Zeeshan Azmat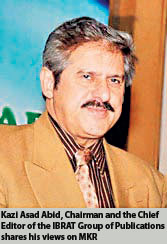 In Pakistani history of journalism, one name that outshines all the others and will always be remembered, in the sub-continent, for the years to come is of, none other than, Late Mir Khalil-ur-Rahman. This is not only because of his sheer dint of hard labour but also because of his
courageous attitude he employed to face all sorts of pressures, political and otherwise, during his long career, with absolute persistence and perseverance.

In order to learn more about Mir Saheb's phenomenal personality and the untiring efforts he made to progress in his journalistic career, which ranged for over more than six decades, The News talked to innumerable icons of journalism who were either Mir Saheb's colleagues or close acquaintances and one such name in this regard is of the Chairman and the Chief Editor of the IBRAT Group of Publications, Kazi Asad Abid.

While talking about the toughest time in the field of journalism, Kazi Asad told: "The Martial Law Administration and military or civil dictatorships, at times, used to be very oppressive with Mir Khalil and would restrict free access to information; often a complete ban on the release of government advertisements to his publications. The autocrat also used to impose pre-censorship on news and articles, like during the MRD (Movement for the Restoration of Democracy), movement, in the year 1983," recalled, Kazi Asad Abid.
He further narrated, "The religious, political parties and ethnic groups used to bully media as this practice was quite common in the past. The activists of different parties would come to media houses aggressively to terrorise the publisher and staff. However, Mir Saheb always took control of the situation and never gave in to the ill-wishes of those people."

"Once an ethnic group demanded Mir Saheb to come at their place and apologise to them. Instead of following the strict instructions, Mir Saheb called a meeting of the All Pakistan Newspapers Society (APNS) and the Council of Pakistan Newspaper Editors (CPNE) during which seeking apology was unanimously ruled out. Ultimately, Mir Saheb, along with senior members of APNS and CPNE, paid a courtesy visit to them which resulted in resolving the matter," said the former secretary general of APNS and CPNE, Kazi Abid, while commenting on how MKR revolutionised the field of journalism.

"Since my childhood, I always found Late Mir Khalil-ur-Rahman Saheb to be a totally committed and a devoted journalist and, certainly, a publisher with a definite cause. Mir Saheb was a self made person who ventured many missions with determination and full courage," he added.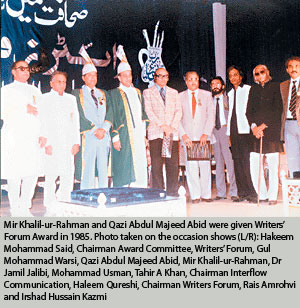 Recalling the most important achievement and contribution of Mir Sahib, in the journalistic field in Pakistan, Kazi Abid reminisced, "Bringing about a bold and daring newspaper, like Jang, was definitely not an easy feat and is, without a doubt, the most significant milestone Mir Saheb has accomplished."

"Furthermore, with the introduction of 'Computerised Letter Composition', commonly known as 'Noorie Nastaleeq', through the computers, this great man completely transformed the printing and publishing industry of Pakistan which was, eventually, followed by other newspapers," he further elaborated.

Replying to a question, Kazi Abid further detailed that there are so many events and memories related and connected with Late Mir Khalil-ur-Rahman Saheb that it's difficult to recall them all. "He was down to earth, wonderful and a jovial human being with a great sense of humour. Not to mention, he was equally courteous and humble towards his family, friends, business associates and even, the subordinates."

"Once during our joint trip to Kuwait, where we had gone to attend an Organisation of Islamic Countries Conference, the sight of Mir Saheb washing his own shirts, socks and undergarments, in the Royal Guest House, where almost everything was on the house and free of charge, just couldn't keep me from being completely impressed by him. Despite being reminded about the free-of-cost facilities, he continued managing his chores himself saying that he did not want to spoil his long established good habits by getting his clothes washed free of cost," remarked Kazi Abid while going over in his memory. "On yet another trip to Egypt, Mir Saheb took me along to visit the historical site of the famous Pyramids where he took several pictures with his own camera. It was then that I found out that he also excelled in photography."

"Mir Saheb also used to keep a portable 'transistor world band radio' to listen to the news bulletin and a 'Tele- printer Unit' in his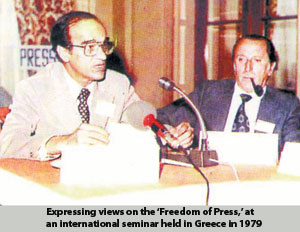 personal study room in order to receive the latest news of APP which he later translated himself for the benefit of his readers," informed Kazi Abid, who is also an executive member of APNS and CPNE.

"Mir Sahib was at the peak of his journalistic profession when his establishment turned into a 'Group of Publications' with the assistance and cooperation of his two sons, Mir Javed-ur-Rahman and Mir-Shakeel-ur-Rahman, who very successfully handled the expansion and progress of the company. Interestingly, many other newspaper groups followed suit, observed Kazi Abid. "Mir Saheb added another feather to his cap when he became the President of APNS and CPNE, the two respective sole bodies of the Owners/Publishers and Editors."

"I am myself a quintessential example among the huge lot of people who followed Mir Saheb's footsteps in the field of journalism. He was truly an inspiration and, adhering to his principles, I also worked for 18 hours at a stretch, for almost three years, to execute the multicolour separations of transparencies for my newspaper, the Daily IBRAT's various editions, during the week. I still follow many good things that Mir Saheb practised during his lifetime", acknowledged the Chairman and the Chief Editor of the IBRAT Group of Publications, Kazi Abid. "Last but not the least, Late Mir Saheb was habitual of visiting his sole-agents and sub sole-agents on frequent basis, in rural Sindh. Being a big-hearted man, he commiserated with the hurts of his subordinates and always made sure to remain in touch with them," he concluded.

"I'd like to advise the youth to
develop a habit of reading
newspapers. Newspapers have
progressed in Pakistan, but we
still need to go a long way.
Our youth does not have healthy
reading habits. If they decide to
pursue journalism as a career,
then they should develop a practice of extensive reading. This reading should not be confined to just books but other reading material, as well. It is difficult to progress without this. The future of journalism is in the hands of our youth. The world is changing fast and if we don't change with it we will lag behind."