A Tribute to
Mir Khalil-ur-Rahman

Mir Khalil-ur-Rahman:
services to journalism in Pakistan
Modernised print technology, built up quality newspapers and trained large number of journalists
By Qutubuddin Aziz
| | |
| --- | --- |
| Mir Khalil-ur-Rahman was among the most successful pioneers in the field of Pakistani journalism and his contribution to the development of a healthy Press in Pakistan was immense. In doing so, he was motivated by a high sense of patriotism which dates back to the days of the Pakistan Movement in which he was an active participant through his newspaper creation, the Jang of Delhi. | Mir Saheb delivering speech at a function organised by a Pakistani students organisation at a Islamic Culture Centre, London on September 11, 1984 |
A self-made newspaper entrepreneur, who had personal experience of doing every task involved in newspaper production during the formative years of the Jang in Delhi in the 1940s, Mir Khalil-ur-Rahman had a penchant for press reporting which clung to him all his life. Just as he wrote reports of the Quaid-i-Azam's press conferences in Delhi for his Jang, he continued filling reportage for his newspaper group in Pakistan of the interviews he had or the press conferences he attended of the high and mighty in Pakistan. This is what made him so unique among the newspaper publishers in Pakistan.
| | |
| --- | --- |
| A staunch supporter and publicist of the Muslim cause in the Pakistan Movement in the pre-Independence period, Mir Khalil-ur-Rahman lost no time in transplanting his Jang from Delhi to Karachi in August 1947 to greet the birth of Pakistan. Despite the shortage of funds and printing facilities in Karachi in those difficult days, he showed courage and dynamism in building up the Jang from almost a scratch and within a few years it became Pakistan's first Urdu national daily newspaper. Giving every fibre of his being, day and night, to the Jang and facing tough competition from its rivals such as the Daily Anjam, | Mir Saheb with Mohammad Khan Jonejo and Ronald Reagon (ex-president USA) on the occasion of the former's visit to the United States of America. |
Mir Khalil-ur-Rahman was able to train and mobilise a talented team of journalists for his newspaper during its incipient years in Pakistan such as Syed Mohammad Taqi, Majeed Lahori, Ibrahim Jalees and Rais Amrohvi. One of the remarkable qualities of Mir Khalil-ur-Rahman as a captain in the newspaper industry in Pakistan was the personal rapport he built up with his employees, treating them more as colleagues than as nameless staffers in an expanding press outfit. He was generous in praising their performance, particularly his reporters who gave the Jang a good "scoop". Rais Amrohvi told me that his day was filled with joy when Mir Khalil-ur-Rahman phoned him his laudatory compliments on his Urdu quatrains. Unlike domineering newspaper publishers, Mir Saheb gave full editorial freedom to Syed Mohammad Taqi some of whose editorials in the Jang rank among the best in the annals of Urdu editorial writing in the Subcontinent. But quite frequently, it was Mir Saheb who gave "food for thought" and the staple for such editorials to Taqi Saheb. In the meetings of editors, which the federal information ministers of Pakistan summoned from time to time when Karachi was the Federal Capital, Mir Khalil-ur-Rahman courageously defended his staff members for any reportage or editorials in his newspapers. I remember vividly a number of such meetings with the ruling Information Ministers in which Mir Saheb, in line with the fundamentals of press freedom and the reporter's right not to disclose his source of information to the authorities, shielded his staff correspondents for their reportage for what he considered was honest reporting. But whenever he was convinced that a published report was factually incorrect, he readily published a correction or contradiction in conformity with the ethics of healthy journalism.
In the evolution of the Press in most parts of the world as, indeed, in Pakistan - photographs and vibrant features have contributed immensely to making newspapers and magazines lively and popular. Mir Khalil-ur-Rahman, during his visits to scores of countries in the West and the East, spared the time to visit their major newspapers and learnt from their experience in news coverage, photo journalism, printing methods and machinery and feature-writing.

In 1956, during a visit to China as a member of a Pakistan Press Delegation,


British Prime Minister Edward Heith with Pakistani journalists.
Mir Saheb found time to pay a visit to the People's Daily in Peking and talked to its senior editorial and news staff on useful professional matters such as news gathering, page make-up and printing machinery. In 1986, during a visit to the USA as a member of the Press team that went with the then Pakistan Prime Minister, Mohammad Khan Junejo, Mir Khalil-ur-Rahman made it a point to make detailed inquiries about the high-speed rotary printing machines and computerised typesetting in use in major US newspapers. As the then Chairman of the semi-Government National Press Trust in Islamabad, I had at that time begun using the high-speed Goss Community rotary printing machines for the Pakistan Times in Lahore and Islamabad; Mir Saheb saw them and made more inquiries about them during his US visits. In 1987, Mir Saheb spent considerable time in discussing the working of the UK's Press Council with its Director-General in his Fleet Street office in London. During his Presidentship of the Council of Pakistan Newspaper Editors and the editors' bodies before it, Mir Khalil-ur-Rahman vociferously advocated the establishment of an active and independent Press Council in Pakistan to help promote high ethical standards in Pakistani journalism and develop a healthy relationship between the Press and the Government and the public at large. In the Pakistan-wide expansion of the Jang Group of newspapers, its extension to London as Jang International, the steady growth of the Daily News of Karachi, the progress of the MAG and Akhbar-e-Jahan and the launching of The News as a daily (morninger) were the result of Mir Khalil-ur-Rahman's remarkable spirit of enterprise to serve Pakistan and Pakistani journalism. He not only trained and encouraged many hundreds of journalists and press workers, but he also personally trained his two capable sons, Mir Javed Rahman and Mir Shakil-ur-Rahman, to manage, run and expand the Jang newspaper group and its offshoots which he has founded and nourished with his lifeblood.
A contributing factor to the success of Mir Khalil-ur-Rahman's newspaper enterprises was his matchless command over building up circulation and advertising revenue. Karachi's leading newspaper sellers held Mir Saheb in high esteem and admired the personal interest he took in maintaining good relations with them. They had easy access to him and he kept a daily watch on the printing and circulation numbers not only in Karachi but also in other parts of Pakistan. In 1987, he told me in Islamabad that he was having a survey of the Jang's circulation arrangements in Murree and its neighbouring Gallis (such as Nathiagali, Ghora Gali and Kalam) to ensure that his newspaper reaches its readers in time even in the most outlying parts of Pakistan. Mir Saheb's tradition is being continued by his sons and their colleagues and staff, giving the Jang-NEWS group of newspaper the largest readership in Pakistan. In the UK also, the Jang-NEWS International, thanks to Mir Khalil-ur-Rahman's pioneering efforts, are popular in the Pakistani community there and constitute an information bridge between them and their Mother country - Pakistan, During my posting at the Pakistan Embassy in London between 1978 and 1986 as Minister (Information), I was personally a witness to the saga of the building up of the Jang International under Mir Khalil-ur-Rahman's leadership and the dedicated team he mobilised for this great enterprise abroad.
Advertising revenue is a major element in the fate and fortune of an independent non-Government newspaper.
As a newspaper publisher, Mir Khalil-ur-Rahman gave it tremendous importance and he had a knack for selecting the best personnel to take care of the advertisement side of his newspaper ventures. He had almost a sixth sense in developing his newspaper's advertising clientele and establishing productive relations with the advertising agencies in Pakistan and abroad. Every morning, he glanced over the advertisements in his newspapers and those published in the rival newspapers and quickly alerted his advertising staff to existing and potential advertisers, particularly for the supplements, he encouraged his newspapers to publish regularly to boost advertising income.
Invariably, he ploughed back most of the profits into his newspapers, raising staff salaries, installing more modern machinery and equipment and spending more on news gathering. Once I asked him how he was able to attend to the increasing demands posed on his time and energy by his every-expanding newspaper empire. With a smile Mir Khalil-ur-Rahman replied: "It is a trade secret but I have developed it from the time I started the Jang in Delhi in the early 1940s. At times, I get an idea or a brainwave about newspaper management and I immediately jot it down in my notebook. I do it even at night when I am half-asleep. I owe all my success in life to Allah's blessing and the energy and faith He gave me".
Mir Khalil-ur-Rahman and the Jang are among the great success stories of Pakistan. Mir Saheb's love for Pakistan was boundless. He looked up to Quaid-i-Azam Mohammad Ali Jinnah for inspiration and felt inspired by his magnificent example in creating and building up Pakistan from almost a scratch. It was an Act of Faith in Allah's Mercy and Guidance on the part of the Quaid-i-Azam and the legion of Muslims who followed his command. Mir Khalil-ur-Rahman was one of them and like the great leader he followed, Mir Saheb's faith in Allah was unfaltering. He successfully faced many a crisis in life but, according to him, his prayers to Allah got him the strength to surmount the worst of challenges.
My first meeting with Mir Khalil-ur-Rahman was late in 1949 in the Jang's old Karachi office but my father, Syed Abdul Hafiz, founder of the United Press of Pakistan News Service, had met him many a time in Delhi in the mid-1940s and praised his sterling services in the Pakistan Movement at a time when the opulent and well-staffed Hindu newspapers were waging a relentless war against the Pakistan plan and the Quaid-i-Azam.
Mir Khalil-ur-Rahman: The pioneer of mass journalism
By Nisar Ahmad Zuberi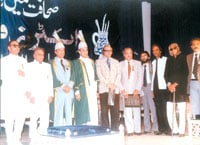 "Change or be damned. Break the stony walls, open new doors and windows, if you need to survive with pride." This was how Khalil-ur-Rahman lived and made his empire in the field of underdeveloped Urdu journalism. He did not believe in the philosophy of Zamindar of the 1940s or of Takbir of 1970s and '80s. The two publications believed in severe criticism, come what may. Instead, Mir Saheb had his own point of view. He thought and practised "balanced criticism" and never to stake survival. To him it was futile to publish and be damned. He did not like to say the truth with a bang to get arrested and to keep his publication frozen for months. His ideology was to survive. Keep on presenting both the sides of the picture and that perseverance will bear fruits as one desires.
Some people may not agree with his ways of survival and gradual development. But then who can deny the fact that Mir Saheb steered the whole machine of Urdu journalism in Pakistan to a new era of balance, business development and mild criticism. He earnestly believed in raising the standard of Urdu publications where majority was content with lithographic printing, semi-literate staff, hand to mouth economy and the firm belief that international standards are not for us to envy.
Mir Saheb almost single-handedly demolished the whole edifice of old Urdu journalism. Be it offset colour printing installation of web rotary press, computer calligraphy, telex transfer of contents to various editions within the country, or be it intelligent money making.
It was he who oiled a rusted engine and ushered in a new era of believing and striving in change. In all truth, he was a man of inherent greatness. Taking start from Masjid Fatehpuri in Delhi, through his B.Com and through small sized Jang of World War II years to 1947 and after, he built an empire out of dust.
My first meeting with him was a cool one-sided affair. It was a dull November 1965 forenoon when he called me to his room at his old Burns Road Office. Every other section of Jang's outfit had shifted to a new small building off McLeod Road as I.I. Chunrigar Road was called then. For some reason he continued to occupy the same building from where Jang had started its ascendancy. I was a novice in the field of journalism at that time, but a student page under my editing in Hurriyat had gained popularity among the college goers in the city. Mir Saheb offered me the same kind of job in Jang. Being a complete duffer in money matters, I just listened to what Mir Saheb had to say. He suggested a salary to which I readily agreed and then he surveyed Urdu journalism. Lamenting its gross under development he expressed his desire to see Urdu newspaper equal or ahead in excellence than English contemporaries. He praised my "students page" in Hurriyat and talked about the need of highly educated people to work in Urdu newspapers.
Today after 36 long years, I recall that first meeting and the warmth he could bestow upon me, a 26-year-old new comer. By it very nature it was a kind of business meeting but Mir Saheb made it look different. He was already a stalwart, on his way to memorable greatness and yet he had time to encourage someone to enhance the level of his motivation.
In those difficult post-war 1965 days, Jang was clearly ahead of other Urdu newspapers. It was becoming a truly mass circulated newspaper of the country. The driving force behind this deep-rooted wide-ranging change was no one else but him. His influence and foresight was the chief characteristic of every section and more so of the news desk. He may be at his room in the office or might have listening to radio late in the night or at his residence, he was always monitoring news and suggesting new stories.
His natural inclination towards hard work had an obvious dressing of good luck. Fortunately he got the services of people like Yousuf Siddiqui, Athar Ali and Inam Aziz for a planned development of Jang's news section. All of these gentlemen (may there souls live in peace) were masters of fast English to Urdu translation, summarizing the news to accommodate more stories and the presentation of news. This team of four with Mir Saheb at the top as monitor of almost all foreign broadcasting services made Jang the foremost news teller of the country. No doubt there were so many celebrities among the contributors. They included Faiz Ahmed Faiz, Josh Malihabadi, Shaukat Thanvi, Pir Ali Muhammed Rashdi, Majeed Lahori, Raees Amrohvi, Ibrahim Jalees and the likes, but main attraction of this upcoming Jang was its news. Every other piece of content was read because of its articulate news, properly summarised and simplified for the masses. Majeed Lahori, for example, was greatly liked for his terminology of "Saith Tubeji Tyreji" and "Ramzani" but it was all secondary after the much sought after news, which was greatly liked for its brevity and believability. And it was here that Mir Saheb played his central role with the regular news listening. This habit of his prompted everyone in the newsroom to be alert with eyes and ears wide open.
Once the traditions were set, the second-generation news editors like Afzal Siddiqui, Ajmal Dehlavi, Mahmood Madani, and Yunus Riaz continued to excel in the art of news editing and keeping the flag higher than all others do.
With Mir Sahib at the centre of the stage, Jang became a must read, even for the phony highbrows, aristocratic decision-makers who previously disliked even to touch an Urdu newspaper.
No ordinary feat by any standards, Mir Saheb made Jang truly a mirror of grossly underdeveloped, poverty-stricken society. His newspaper had become the only mass circulated newspaper of the country which offered something to the interest of everyone. As such he was a combination of professional tendencies which Joseph Pulitzer and Benjamin H. Day had shown in the nineteenth century America. For example Day, who started publishing "New York Sun" (in 1833) made it "Shine For All" so that an era of mass circulated "Penny Press" could start. He broadened the horizons of news to include almost everything that could attract the attentions of commoners. Later around 1885, Pulitzer with his enterprising nature, experimented with all sorts of readable materials and also with non-verbal content like his now famous "Yellow Kid" cartoon which caused the beginning of "Yellow Journalism."
Mir Saheb had all the good characteristics of Day and Pulitzer for enterprising and experimenting. And to these characteristics he added his very own outstanding qualities of management, organisation and of keeping a constant eye on the changing environments.
His personal characteristics played a critical role in his relationship with his team members. Not being aristocratic, Mir Saheb never thought to implement any rules on meeting his staff. Even a peon could open his door anytime to voice his complaint. Mir Saheb never objected or scolded him. We the middle order members of his team never sought permission to see him and never contacted his secretary to fix a time for a meeting. Several times, it so happened, that he was absorbed in something very serious and I went to him for a petty routine matter. He would graciously leave whatever he was doing and attended what I had to say. And then he always came out with a very practical solution to the problem I presented.
One quality of his, which was really amazing for me, came to my knowledge when I was transferred from Akhbar-e-Jahan to start writing editorials in Jang. Taqi Sahib had already left and in those days Jang hardly had any good impression as far as its editorials were concerned. The common reader always left this part of the content, as he believed its reading would not lead him to anywhere. With the passage of time, Khalid Farooqui and me were entrusted with, perhaps the most prestigious kind of a work in a newspaper. It was here that a rather unknown quality of Mir Saheb came to my knowledge and left me completely amazed.
To begin a new phase, a new routine was developed. Every morning Yousuf Siddiqui (Executive Editor, Jang), Khalid Farooqui and me would go to Mir Saheb's chamber, where we discussed important and more commentable news of the day. After narrowing down the list to two or three topics, Mir Saheb would give his views on them. And later on either Khalid Farooqui or me would develop the theme and write. During these discussions a new dimension of his multi-faceted personality came to limelight. In the interiors of his business-oriented personality, there laid hidden an amazing acumen for writing and logical thinking.
Sometimes when something very serious was selected for editorial comment, he desired to go through the calligraphed end product. Though rare, such occasions guided both of us (Khalid and me) to be cool, critical, logical and decent in our language. In these daily meetings I learnt to look for different dimensions of a problem and to write on it in a decent unoffending language.
Only a few people know that Mir Saheb was a good writer too, though he did not get time to write much. During my nineteen years of service in Jang and Akhbar-e-Jehan, only at two or three occasions he wrote something to be published with his name as author. He was simply eloquent. His short, to the point and down to earth way of writing was greatly liked by many. I can say without any doubt that extreme burden of his different duties, prevented him to be a writer par excellence. Had he concentrated on writing alone, he could have become a writer of repute.
Mir Saheb's general behaviour towards his staff depended on many factors. He would come to office every morning after having read almost all the newspapers. This routine always provided him with several points for discussion and for seeking explanations from those who might have missed a news or a point.
As a regular newspaper reader and radio listener he was the most informed soul in the office. On rare occasions he did lose temper but only when the folly was found to be based on sheer carelessness. This had promoted his staff to be very responsible and alert all the time.
Mir Saheb always valued his good or above average staffers. Once a reporter forged Mir Saheb's signature to get a crucial permission from State Bank. After getting the permission he proceeded to the USA. We were sure that all hell will be let loose on his coming back. But the reporter was a good one and this quality easily earned him Mir Saheb's pardon. He continued to work in Jang as usual.
As I recall my long stay in Jang building, I need not to eulogize him to make him an angel. Like all of us he had his weaknesses. Sometimes he gave up to pressures which none of us liked. But he always come out with a convincing and logical explanation later on and made us understand what the stakes have been. On the whole he was an embodiment of a great success in pioneering of new kind of mass journalism in Pakistan. He was criticised for publishing coloured pictures of the movie queens. See what the so-called serious English newspaper of the yester years is doing today. Mir Saheb brought Urdu journalism to the mainstream of international journalism and made it conscious of the business and marketing needs. With whatever standards we judge, his services demand due respect and appreciation.
Mir Khalil-ur-Rahman
received a number of awards for his outstanding services in journalism
1978 - Gold Mercury International Award, Mexico.

1983 - Merchant Navy Officer Award.

1985 - Writers Forum Award.

1985 - Iqra Award.

1985 - Baladi Award, UAE.

1987 - Nishan-e-Behbood.


Receiving Mercury International Award at Mexico.
1987 - Pakistan Movement Award.

1987 - Quaid-e-Azam National Award.

1988 - Honourary Degree of Ph.D. Sri Lanka.

1989 - Performance Award.

1989 - Quli Qutub Shah Aalami Award (given at International Urdu Conference), New Dehil.

1990 - Art International Award (Best editor-in-chief Award), Dubai.

Hereunder are the publications which have been launched

by the untiring struggle of Mir Khalil-ur-Rahman

Akhbar-e-Jahan January 1, 1967

Jang, London March 15, 1971

Jang, Quetta March 31, 1972

Weekly Mag May 8, 1980

Jang, Lahore October 01, 1981

The News, Karachi, Islamabad

and Lahore simultaneously February 11, 1991.

Mir Khalil-ur-Rahman: A media legend

By Prof. Zakariyya Sajid
| | |
| --- | --- |
| Mir Khalil-ur-Rahman, founder of the Jang Group of newspapers, is indeed a legend in Pakistan's journalism history. Having started Jang as a two-page Urdu eveninger (edited, calligraphed, got printed and marketed by himself) in Delhi in the early forties he had, by the time of his demise in 1992, built a media empire - an unprecedented feat in our history. He has left an indelible mark on virtually all aspects and departments of print media - reporting and editing, photography and layout, printing and production and circulation and management. | Expressing views on the 'Freedom of Press' at an international seminar held at Greece in 1979. |
His knowledge and experience in these fields armed him with a cutting edge in competing with his rivals as well as in his unrelenting pursuit of excellence in journalism.
Unlike the founding fathers of Muslim Journalism in India Mir Saheb was neither a political figure nor a literary giant. He, however, built himself into a media legend by virtue of learning from his environment, a knack for modernity and innovation, shrewd business acumen and sheer hard work. As an outstanding editor-cum-publisher he can be likened to the legend of American Journalism, Joseph Pulitzer who is professionally remembered for his great intuitive qualities and innovative spirit in the field of print journalism and who is now world over known for instituting Pulitzer prizes for distinguished work by writers and journalists in America. Like Mir Sahib Pulitzer also was a self-made editor-cum-publisher. His heritage of popular journalism (yellow kid) was, however, not shared by Mir Saheb, given his traditional background of Muslim values of family life.
Mir Saheb developed his own mix of popular journalism including use of cartoons and pictorial features. He had great interest in the adoption of new techniques of layout and printing technology, which helped him to beat his rivals in Karachi and make his newspaper the premiere Urdu daily of the country.
With the shifting of Federal Capital from Karachi to Islamabad, Jang also started its publication from Rawalpindi, thus embarking on a national circulation circuit. Jang International (London) and editions from Quetta and Lahore made the group Pakistan's largest publishing house of newspapers. Mir Saheb was fortunate enough to have his media empire extend to English journalism with the simultaneous publication of his English daily The News from Karachi, Lahore and Islamabad. The largest circulated Urdu and English weeklies (Akhbar-e-Jehan and MAG) and the eveningers make the group to claim more than half of Pakistan's total circulation.


Carring the mission forward - Mir Shakil-ur-Rahman and
Mir Javed Rahman with their great father.
Mir Saheb's lasting and memorable contribution to the development of Urdu journalism was the adoption of computer calligraphy which has revolutionized the entire industry to make it at par with English journalism.
One of Mir Saheb's distinctive qualities has been a hunt for talent. He was always on the look out for spotting promising reporters and correspondents, editors and printers as well as advertising and managerial hands not only from the local enterprises but from other cities also. This made his establishment a competitive and productive assembly of skilled workers guarantying excellence in the profession. The Jang Group can claim credit for having on its staff stalwarts like Pir Ali Mohammad Rashdi, Syed Mohammad Taqi, Rais Amrohvi, Shaukat Thanvi, Yousuf Siddiqui, Ibn-e-Insha, Ibrahim Jalis, Athar Ali and many others who in their own right are considered luminaries of Pakistan's journalism.
Mir Saheb was blessed with many qualities of head and heart. He was tolerant of criticism and maintained a balanced approach and relationship with his colleagues in the profession and the people at large. He generously acknowledged the contribution and services of other eminent people in the profession. By nature he was opposed to supporting extreme ideas and measures and believed in working in a balanced and harmonious environment.
Mir Saheb firmly believed in the freedom of press. He had suffered imprisonment at the hands of the British Administration in Delhi in his formative period for criticizing the Government's Military Recruitment Policy during the 2nd World War. However, during the post-independence period he adopted a more positive policy towards the government while his newspapers did criticise government policies and measures whenever required. On the whole they maintained a positive stance because such a policy tended to be an imperative for Pakistan's unity, integrity and progress.
While addressing the faculty and students of journalism department at the Karachi University he once observed that freedom of the press must always be tempered with responsibility and that the nation's integrity and solidarity must be a supreme consideration. He believed in maintaining harmonious relations with the government and thought that both the government and the press should respect each other's independence. He was against confrontation with the government and thought all issues could always be sorted out through dialogue and negotiations. According to him journalism was one of the greatest institutions of social power and progress and it must be used as an instrument for a positive development of the society.
Mir Saheb evinced keen interest in the professional development of journalism. He had many opportunities to participate in national and international seminars and conferences and use experience thus gained to the advantage of his newspaper. He was a member of the Commonwealth's Press Union and the International Press Institute and took part in their conferences with great enthusiasm, which helped to broaden his professional out look and intellectual horizon. Insight and experience of such international interaction became an integral part of his vision of Pakistan's journalism which continues to emulate his performance to reach excellence in the profession.
-- The author of this article is ex-Chairman, Department of Mass Communication,
University of Karachi.
By Wiquar Yusuf Azeemi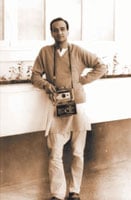 It was in the decade of 1940, when the movement for Pakistan was in full swing, and a young man just began his career in Journalism. The man who later became famous in the world of Journalism was none other than Mir Khalil-ur-Rahman, the Founder, editor and publisher of "Jang" from Delhi. But at the start of his career the situation was not at all rosy. He had virtually no worthwhile capital or support of any political party which could have assisted him in his profession.
At that time the number of Urdu newspapers was very much negligible, whereas the pro-Congress Hindu newspapers had a large covering with numbers of them published from different cities in India. In face of all these odds the young Mir Khalil-ur-Rahman stood like a rock in his aim, and worked with a missionary zeal to bring out the "Jang" and put it on even keel. He started Jang with a very small capital, but the paper soon gained recognition for its unbiased reporting. Soon after partition of the sub-continent Mir Saheb migrated to Karachi, Pakistan where once again "Jang" appeared. Here he had to begin the publication of his paper, with almost no organised or disciplined foundation. It was solely his firm determination, and a few handpicked comrades, which helped in establishing the paper. Mir Saheb, himself used to perform a number of odd jobs for his paper.
The whole life of Mir Khalil-ur-Rahman is not only a beacon light for persons who wish to start their career in journalism, but to other youths also who enter into the initial years of their careers in fields other than journalism. They can get lessons of firm determination, in face of odds, perseverance and to accept challenges towards attainment of their goal.
The challenges and hurdles, which Mir Saheb had to face in his journalistic profession, were quite unlike which any other business organisation may have to face. Mir Saheb had to face the challenge of keeping an independent policy for his paper in wake of the ever-changing political and military regimes that have ruled this country. Infact it had been a very arduous task for him to keep a balance, between the wrong thing of the party in power and the opposition, who were equally eager for endorsement of their viewpoints, by the paper.
In a situation like this, where politicians were kept in pressure by the federal as well as the provincial governments, civil liberties and personal rights were at stake, it was simply naive to think for maintaining an independent policy by a newspaper; and it was so that many newspapers had to bear the wrath of the ruling party.
In such an atmosphere the Jang had also become target of the government's wrath, but all this was gallantly borne by Mir Saheb and Jang meanwhile became one of the leading newspapers of the country. During the martial law government of Gen. Ayub Khan the notorious "Press and Publication Act" was promulgated, which was from the very onset opposed by Mir Saheb, who demanded its repeal along with some other bodies of the Press and Publication.
Other civil and military governments, which came into power from time to time were let known of this disapproval, but the "emergency" remained enforced.
It was the government of Mohammed Khan Junejo that lifted the emergency in the year 1985, after the end of Martial Law rule; however the Press and Publication Ordinance remained in force, which was ultimately removed by President Ghulam Ishaque Khan. Mir Saheb steadfastly kept pressurizing the government, all this time to repeal the PPO.
The APNS (All Pakistan Newspapers Society) was founded in the year 1956, and Mir Khalil-ur-Rahman became an active and founder member of this society. Mir Khalil-ur-Rahman was elected as its president for as many as nine times, in recognition of his services to the body and to the overall progress and development of newspapers industry of the country. Along with his untiring effort to maintain the freedom of expression and development for the newspaper industry as a whole Mir Khalil-ur-Rahman always strove for adoption of the latest technologies in conformity with the modern journalistic requirements.
In the early years, after the creation of Pakistan, the Urdu newspapers were published in the manner of Lithoffset. This entailed a lengthy and difficult process. Mir Saheb for the first time introduced the "offset printing" method, which was adopted by all other Urdu newspapers, but still the revolutionary method was yet to be introduced by Mir Saheb. He was the first person to introduce "Computer composing", instead of hand written scripts. To give this modern method for his newspaper Mir Saheb had to spend a large fortune, but he did it with his usual firm determination.
The personal life of Mir Khalil-ur-Rahman is that of a staunch Muslim and patriot to the hilt. He had an unflinching trust in Allah, and it was that trust and faith in Allah, which kept him, firm and unswerved in the most difficult times and ordeals.
Whenever he was in any trouble he prayed to Allah, and that gave him solace, strength and determination. He had a deep love for the Holy Prophet (PBUH). He contributed his best for his country, and he often posed a question "Pakistan has given us everything, but what have we given to it?"
May Allah bless the soul of Mir Khalil-ur-Rahman, and let him rest in the highest echelons of paradise and the house of his journalism may flourish for the sake of service to the country and for the cause of Islam. Ameen.
--Translated from Urdu by S A Haleem
Mir Khalil-ur-Rahman -- entrepreneurial style
By Abdul Hameed Chhapra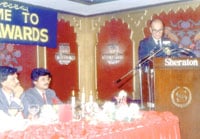 "Labour conquers all things." -HOMER
"The Labourer is worthy of his reward." -TIMOTHY V.B.
"Labour was the first price, the original purchase money that was paid for all things." - ADAM SMITH Wealth of nations
"If we rightly estimate things, what in them is purely owing to nature, and what to labour, we shall find ninety-nine parts of a hundred are wholly to be put on the account of labour." - JOHN LOCKE
"The condition upon which God hath given liberty to man is eternal vigilance."
- JOHN PHILPOT CURRAN (1750-1817)
The fourth week of the holy month of Ramazan had started and as against the usual practice the accounts department had not even prepared the list for the payment of bonus. As expected there was unrest among the employees of "Jang" particularly the lower grades.
Senior Qasid Mashhadi Saheb came to me and requested me to inform "Mir Saheb," Mir Khalil-ur-Rahman about the anxiety of the workers. When I explained to Mir Saheb that unnecessary delay in the payment of bonus would create hardships for the staff members, he immediately summoned the Chief Accountant Jarrar Hussain and directed him that instead of sending advice to the bank, bonus be paid to all employees in cash through vouchers by 5 p.m. He said "Mian doodh dena hai to meingnian dal kar kyoon detey ho?".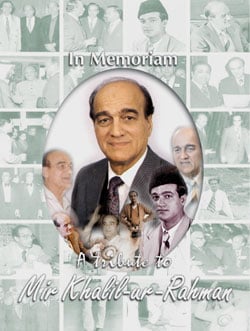 The idea behind narrating the incident was to impress the point that the founding father of the Jang Group of Newspaper used to take prompt decisions for the welfare of the workers.
Yunus Riaz, former Deputy Editor of Jang, Karachi (now editor of the Daily "Beopar," Karachi) recalled that Mir Saheb welcomed the formation of the Jang Employees Union in '60s, of which Mr Riaz was elected Secretary (Ahmed Ali Alvi was President). The first charter of demands presented by the union was readily accepted by Mir Saheb.
By 1988 Mir Saheb had started paying six bonuses every year to "Jang's" employees (two each on Eid-ul-Fitr and Eid-ul-Azha and two on December 25, the Quaid-i-Azam's birthday.
Yunus Riaz also remembers that even before the establishment of the Jang Union, Mir Saheb used to attend the meetings of the Jang Unit of the Karachi Union of Journalists on invitation and used to take on-the-spot decisions on the demands put forward by the employees. Yusuf Faruqui, who worked in Jang, Karachi, from 1953 to 1973 and in Jang International, London, from 1973 to 1983, in different capacities, says that Mir Saheb believed in the dignity of labour since he himself had started from scratch and had gone through all sorts of pains and hardships to build the biggest chain of newspapers in Pakistan.
Faruqui said that "Jang" started paying bonus to its employees even before the enforcement of the First Wage Award from January 1, 1961, the earned leaves were increased to 30 days during these days.
I have also had an active association with the Jang group for about a quarter of a century (1966-1990), as a reporter for "Jang" and "Daily News" and as a columnist of the Urdu pictorial weekly "Akhbar-e-Jehan" and the English weekly The "MAG" for sometime. I must confess that I cannot do full justice to the task assigned to me by Ms Sheher Bano to write various aspects of the multifaceted personality of Mir Khalil-ur-Rahman.
Mir Khalil-ur-Rahman had launched his maiden project with the help of a few friends in Delhi in the early '40s during the Second World War. After partition, Mir Khalil-ur-Rahman migrated to Pakistan and began the publication of "Jang" from Karachi.
Mir Saheb, who started his business with a very small capital was a self-made man who had no inhibitions about doing manual work. He used to buy newsprint from the paper market and carry the reams on his bicycle to the press. After the printing of the newspaper he personally delivered the copies to hawkers.
During the initial period in the preparation of the newspaper Mir Saheb performed various functions along with his able and dedicated editorial team which included such luminaries as Syed Mohammad Taqi, Raees Amrohvi and Yusuf Siddiqui.
Through sheer hard work, and with the cooperation support of his faithful colleagues, Mir Saheb succeeded in making "Jang" the number-one Urdu newspaper of the world (as he used to proudly note).
Mir Saheb kept himself abreast of the latest developments in the printing technology. He imported the latest printing machines, cameras and scanners from Germany, the United States, Britain and Japan.
Noori Nastaliq, the Urdu computer composing, was first introduced by "Jang", later on other Urdu newspapers also switched to this process. Mir Saheb had the ability to judge and predict, and to see things in their proper perspective. He was a meticulous planner. He paid personal attention to the coverage of national functions and important events in advance.
A year after the imposition of the first Martial Law on October 7, 1958, General Mohammad Ayub Khan transferred the capital from Karachi, and Mir Saheb started publication of "Jang" from the interim capital, Rawalpindi.
Under Mir Khalil-ur-Rahman's stewardship the Jang Group of Newspapers religiously pursued a neutral policy. He was for giving coverage to all sections of society, including the smallest political organisations, and not to side with any political party.
In October 1962 Mir Saheb started publication of "Daily News" Karachi, which is the premier English eveninger of Pakistan. In 1966 the Jang Group launched "Akhbar-e-Jehan" in colour. "Jang" started its publication (six issues a week) from London in the early '70s. "Jang" became the first newspaper of the subcontinent simultaneously published from Asia and Europe. Later on, "Jang" made its appearance from Quetta and Lahore in the early '80s. Also in the early 1980s "MAG" was launched and, like "Akhbar-e-Jehan" became the largest circulated English weekly of Pakistan.
In February 1991, "The News", was launched simultaneously from Karachi, Lahore, Rawalpindi/Islamabad and London.
During Mir Saheb's lifetime the project started by the Jang Group emerged as leaders in their respective fields. This extraordinary success is a result of a combination of various factors, including his selection of creative teams.
Mir Saheb was lucky in acquiring the services of some of the top columnists of the country, including Majid Lahori, Ibrahim Jalees, Shaukat Thanvi, Niaz Fatehpuri, Ahmed Nadeem Qasmi, Pir Ali Mohammad Rashdi, Nasrullah Khan and Inam Wali Khan Durrani.
Some of the best news gatherers and presenters of Pakistan, including Yusuf Siddiqui, Inam Aziz, Athar Ali, Irshad Ahmad Baig Chughtai, Afzal Siddiqui, Ajmal Dehlavi, Mehmood Ahmad Madni, Zafar Rizvi, Yunus Riaz, Akhtar Alam and Hafiz Mohammad Islam left no stone unturned to make "Jang" an outstanding newspaper of Pakistan.
The decisive edge which publications of the Jang Group enjoy over their competitors is due to the untiring efforts of their creative staff and production teams. The combined efforts of these workers under the able leadership of Mir Khalil-ur-Rahman were instrumental in continuously increasing the circulation, as well as widening the readership. Mir Saheb appreciated the dedication and positive contribution of his workers. The celebrated columnists were the most pampered members of the organisation. Mir Saheb gladly tolerated the liberties taken by some of them.
The best thing about Mir Saheb was that he did not believe in creating bureaucratic hurdles, he used to say that a contented worker is an asset to an organisation. He was easily accessible and any member of the staff could approach him. Arguably the top newspaper magnate of the country, Mir Khalil-ur-Rahman was never negligent of the welfare of the workers. While other press barons opposed and resisted them, the formation of trade unions was welcomed by the management of the Jang Group during the lifetime of Mir Saheb. During that period the Jang group was always the first to implement the Wage Awards for journalists and other newspaper workers.
Putting the great saying into practice Mir Saheb used to keep awake till sending of the last copy to the press in the early hours of the morning and in the absence of the staff used to rush to the airport for receiving the delivery of photographs sent through PIA parcels from upcountry at midnight in order to include them in the morning issue. During his career, which spanned about half a century, Mir Saheb did not nurture any political ambition. However, for a brief stint in the mid '50s he was elected as councillor of the Karachi Municipal Corporation (KMC) from Artillery Maidan, Karachi.
| | |
| --- | --- |
| Discussing issues of importance with former Prime Minister of Pakistan Z A Bhutto. | Lock-up of Hauz Qazi Thana, Delhi, where Mir Saheb was kept for a night during the Pakistan Movement. |
| During Benazir Bhutto's first visit to US as the prime minister of Pakistan -- Mir Saheb with US President George Bush. | With former Turkish Prime Minister Ismat Inonu. |
| A rare picture with Shah Faisal of Saudi Arabia. | With senior judges of the Supreme Court, the then chief justice Nasim Hassan Shah and Justice (retd) Rafiq Tarar. |
| At the last session of the Ad-Asia conference -- Mir Saheb seen engrossed in discussion with the then President Ghulam Ishaq Khan and the Governor Punjab Tikka Khan. | A delegation of Pakistani journalists comprising Mir Khalil-ur-Rahman, Hameed Nizami and Altaf Hussain in a meeting with King Hussain of Jordan. |
| On a visit to China, Mir Khalil meeting Hua Ku Fung at the famous People's Hall. | With leading Indian industrialist J R D Tata in Karachi. |