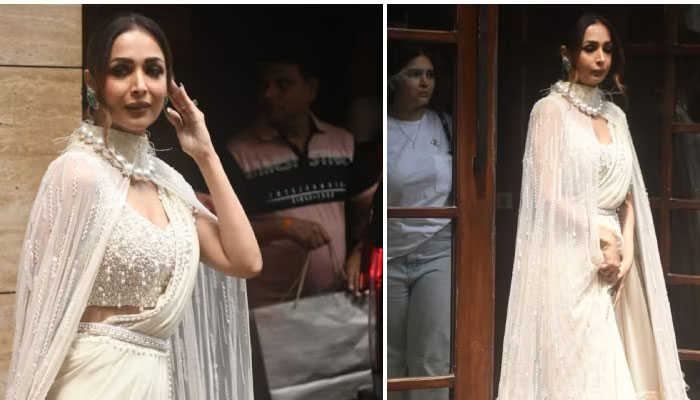 Indian actress Malaika Arora made a stunning appearance in a cream saree and cape and fans are in love with her look. 
Arora was spotted in Mumbai turning heads in the ethnic outfit for an event. 
She dons a saree which had sequined blouse paired with a long matching cape over it and had her hair tied in a neat bun. In accessories, the diva opted for a pearl necklace. 
A paparazzi account on Instagram shared a video of the actress getting into her car but she did pause for a moment as the cameras captured her. 
Fans are adoring every bit of her and reacted with sweet comments. 
 "All our indian actress look so so pretry in Indian wear. Just cant take off my eyes. She is looking so pretty," she said. 

Another added, "Wow her attire is awesome. Loved it loved her outfit after so long." 

 "Ye Indian outfit me kitni achii lg rhi (she is looking so nice in Indian outfit)." 

Many others marveled her outfit and called her gorgeous.