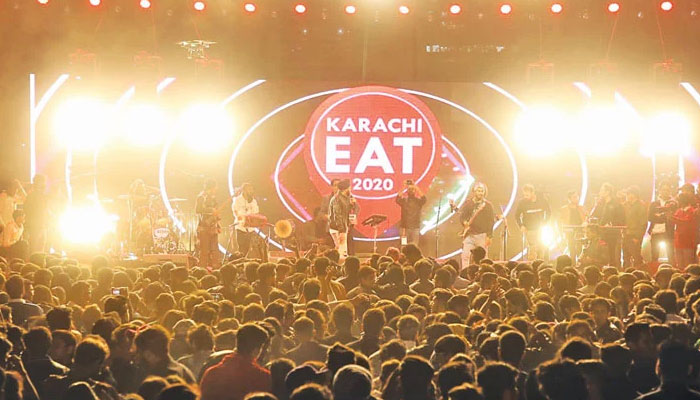 The 2023 run of the city's biggest food festival Karachi Eat concluding in shambles wasn't much of a shock.
On the last day of Karachi Eat's 10th installment, the attendees shared  harrowing accounts of harassment and groping. 

Eyewitnesses at Beach View Park recalled one of the entrances being breached by stags as several miscreants entered the premises without tickets.

Videos of the unruly crowd went viral in an instant and the public sparked outrage. 
Organizers were called out for intense mismanagement. 
"Gates crashed. Families were harassed," Salman Muhammad, whose near and dear were present when the mishap happened, shared with The Express Tribune.

"Young Stunners refused to perform and everything was called off. The management just wrapped everything up. The security was equal to none," He concluded, "It's unfortunate, we have become uncivilised ghosts."

Similar accounts of the night surfaced on Twitter as well. A user shared, "Made it out thank god." The female attendee went on to add, "There were men outside the venue trying to get in to harass women. The police were trying to control them, and suddenly the lights went out and they were all hooting like crazy. Had to climb out of a broken wall to get safely to my car."

Another states, "Stags broke the gates and forcefully entered Karachi Eat today. People are saying that they literally had to leave through spaces between walls and jump off them to get out of the chaos. Please ban such events in the city if security can't be managed."
"Women in the family section were harassed. Tents were dismantled and to deal with it the management switched off all the lights which made the situation worse,'' reiterated the third. 

A verified account on Twitter shared a video from the event and penned, "Kaifi Khalil got hit by a bottle from the crowd, he was bleeding. Girls were getting harassed because of which young stunners didn't perform and Karachi Eat was ended immediately. People broke the boundaries to get inside without tickets."

After all this, the Kahani Suno singer came forward to clarify his stance saying he is not injured and is doing fine but is just disappointed over what all happened. 
At the same time, he expressed concern over all the disrespect being shown towards women and families.
After Khalil's performance was cancelled midway, other artists refused to perform as well. Dil Ke Ishaaray hitmaker Taha G took to Instagram and issued a statement and Ali Tariq also revealed his two cents.