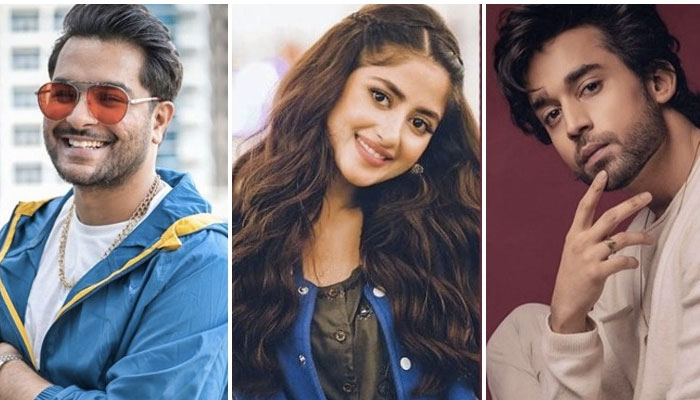 Young talent in the Pakistani entertainment industry is not only making waves locally but is also recognized globally for their extraordinary performances and commending such prowess , Eastern Eye, a British weekly publication, released a list of 30 under 30 South Asian stars that are "breaking boundaries, expanding horizons, shattering glass ceilings, and delighting audiences with their work. 

Not one or two, but five  Pakistani stars made the annual list and were celebrated as "trailblazers" of 2023 in entertainment category.
The list featured singers Asim Azhar, Azaan Sami Khan and actors Sajal Aly, Kinza Hashmi and Bilal Abbas Khan. 
They shared the list with the Pakistani-Canadian Ms. Marvel star Iman Vellani, Bollywood's Alia Bhatt and Rashmika Mandanna, Bridgerton's Simone Ashley and Aladdin's Naomi Scott among other notable names.

The publication referred the thirty stars on the list 'the future in the world of arts" who consistently inspire other youngsters by adding an extra dimension to the entertainment industry with their new ideas."
The list lauded the Habibi singer for his "smooth transition to acting" while never losing sight of his music. The year when Asim charmed his fans with an acting debut was also the year when he released multiple hit songs.

Calling the Mom actor a ''girl with the golden touch'' the publication proudly claimed that Sajal has time and again proven that she would add sparkle to any project whether it is a drama serial, film, music video or eye-catching photo-shoot and they're sure she'll do the same with her debut international movie What's Love Go To Do With It?.
Kinza, being just 25 years old, was commended for her quality of work ever since she made her acting debut in 2014. On the other hand, Bilal was praised for his wide array of roles and remarkable range as a performer. While the actor has more drama serials in his belt, the publication said he holds the potential to work in more web series and films and we agree!

Lastly, Azaan was recognised as "an accomplished singer, musician, composer and actor." His multiple talents always have people hooked to see his work and how he expands the horizons of popular culture.