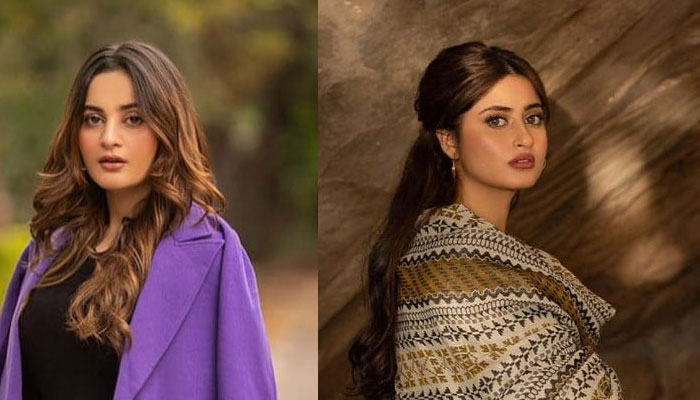 Pakistani celebrities came forward to express their sorrow over the Peshawar attack which took place at a holy mosque. 
 At least 61 people, majority of whom were policemen, were martyred and more than 170 sustained injuries after a suicide bomber blew himself up at a mosque in Peshawar's Police Lines during the afternoon prayers. 

Taking to the Instagram stories features, star Sajal Aly penned down a heartfelt note for all the families impacted in the attack that once again puts Pakistan in the terrorist category.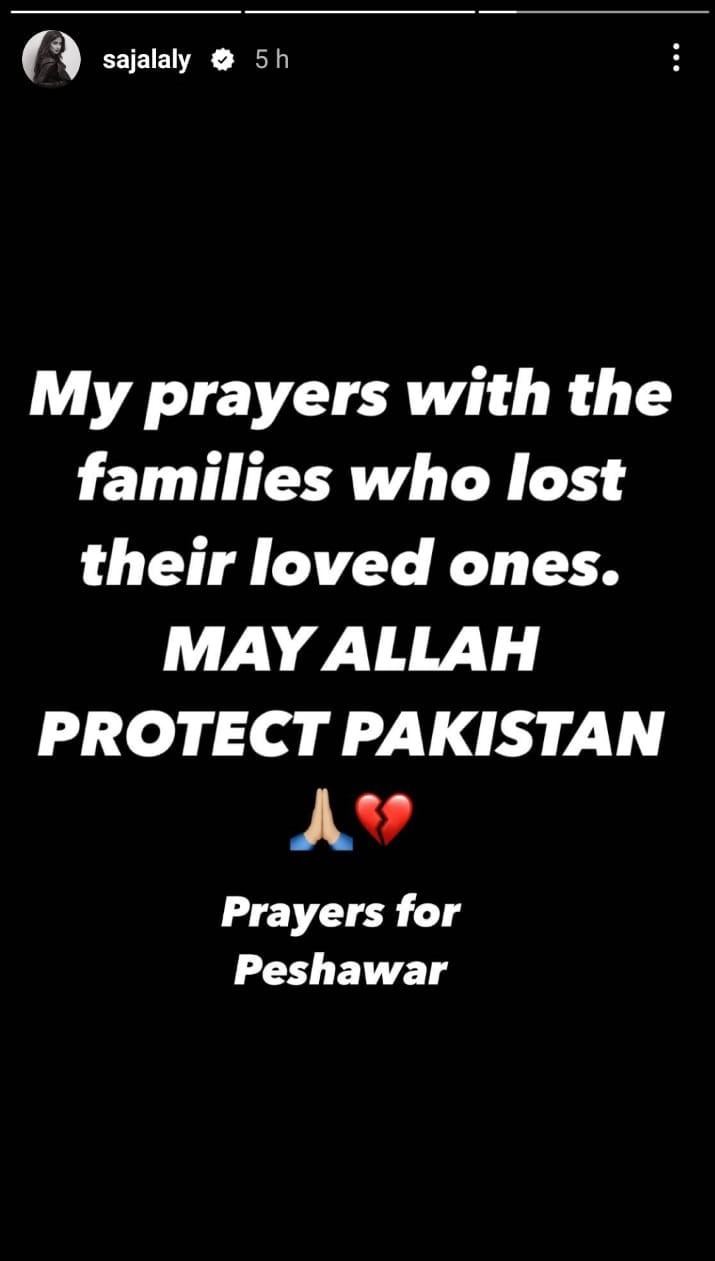 She said, "My prayers are with the families who have lost their loved ones. May Allah protect Pakistan. Prayers for Peshawar." 

Host Anoushey Ashraf also shared a report about the blast, expressing her anger at the culprits of the attack, "Heartbroken. A mosque is the ultimate sanctuary from violence. May the curse of Allah be upon the perpetrators of this heinous crime," noted the video jockey.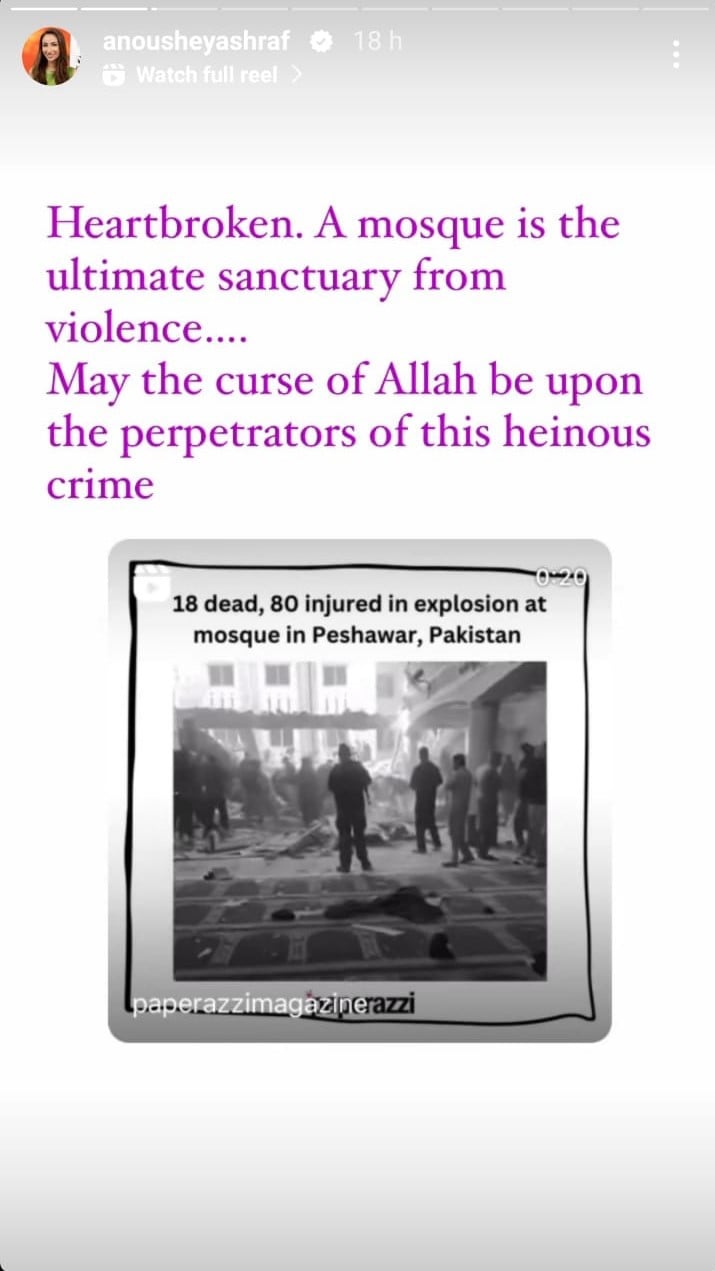 The Habs actor, Ayesha Omar took to Instagram to mourn the lives lost. She said, "Shattering and heartbreaking. May Allah give strength to their families."

At the same time the veteran actor Adnan Siddiqui also extended condolences,  "Surely, we belong to Allah and verily to Him do we return," he captioned the post, followed by the date of the bomb blast in Peshawar.
Aiman Khan also shared a lengthy message for her followers to reflect on. It read, "Pakistan bleeds again. Terror returns to our homeland, yet you will still find loud and vocal radicals who would wish the same on our supposed enemies. Who would wish the same for the people they deem as immoral."
The post further highlighted that the only way to reduce such terrorist crimes is to rid the world of extremism, "Our biggest enemy has always been radicalism, yet it is something our people have always allowed to flourish for decades! Until or unless we root out extremist elements from our society, our syllabus and our parliament, the nations cannot heal. Long live Pakistan, death to terrorism!" concluded the message.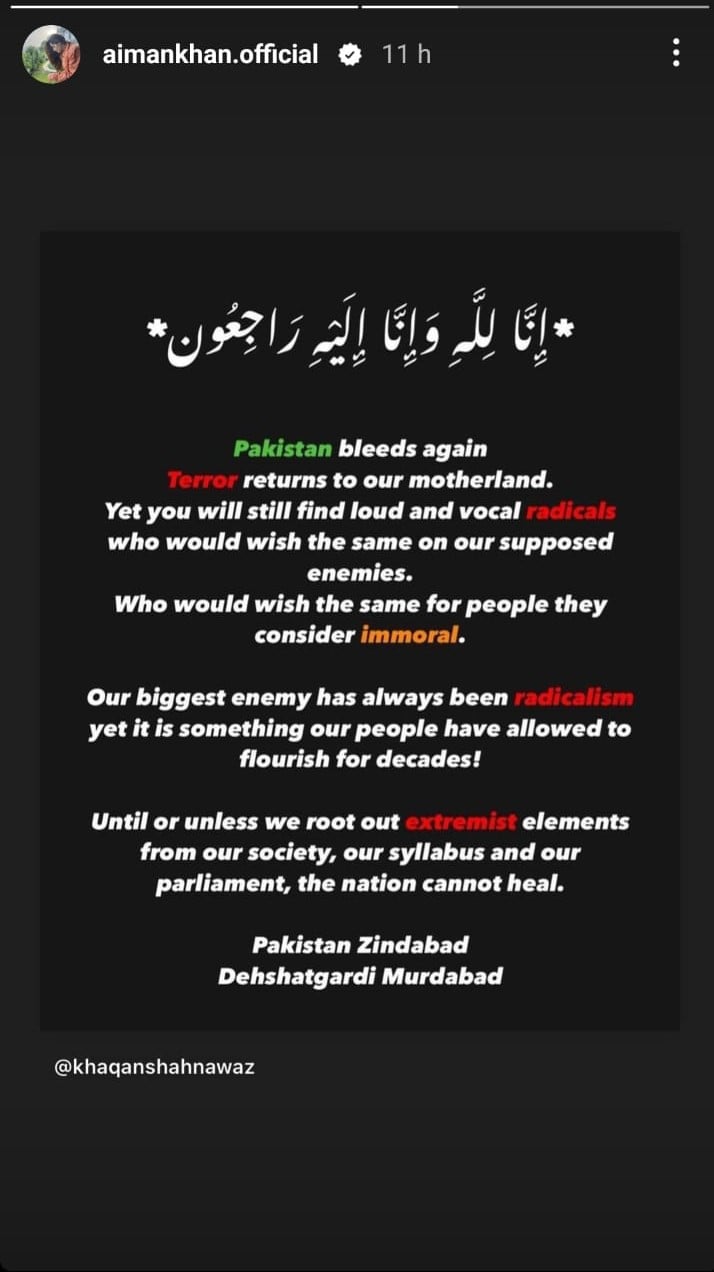 Sana Javed and Momal Sheikh called out ''Prayers for Peshawar."