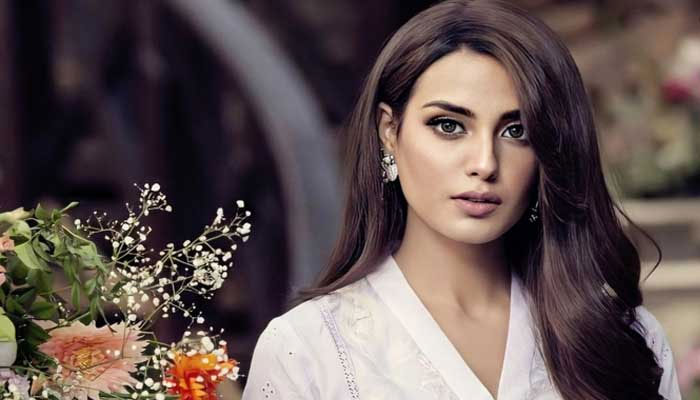 Actor Iqra Aziz recently treated fans to a fun and lighthearted Q&A session on her social media. 
From revealing the secret to her glowing skin to talking fondly about her co-stars, the Suno Chanda star had many interesting mysteries to unravel on Thursday.

On Instagram Iqra excitedly asks fans, "Ask me something, anything! I'm in a very eager mood today."
Fans came rushing in with many questions and the star handled all with much enthusiasm. 
"Who is your favourite Indian actor?" asked one fan. In response to this, she shared a picture of none other than Bollywood's sweetheart Alia Bhatt clad in a red dress for her film, Darlings. She also revealed that her favourite Pakistani drama is Aangan Tehra, which was a satirical TV show written by Anwar Maqsood in the 1980s.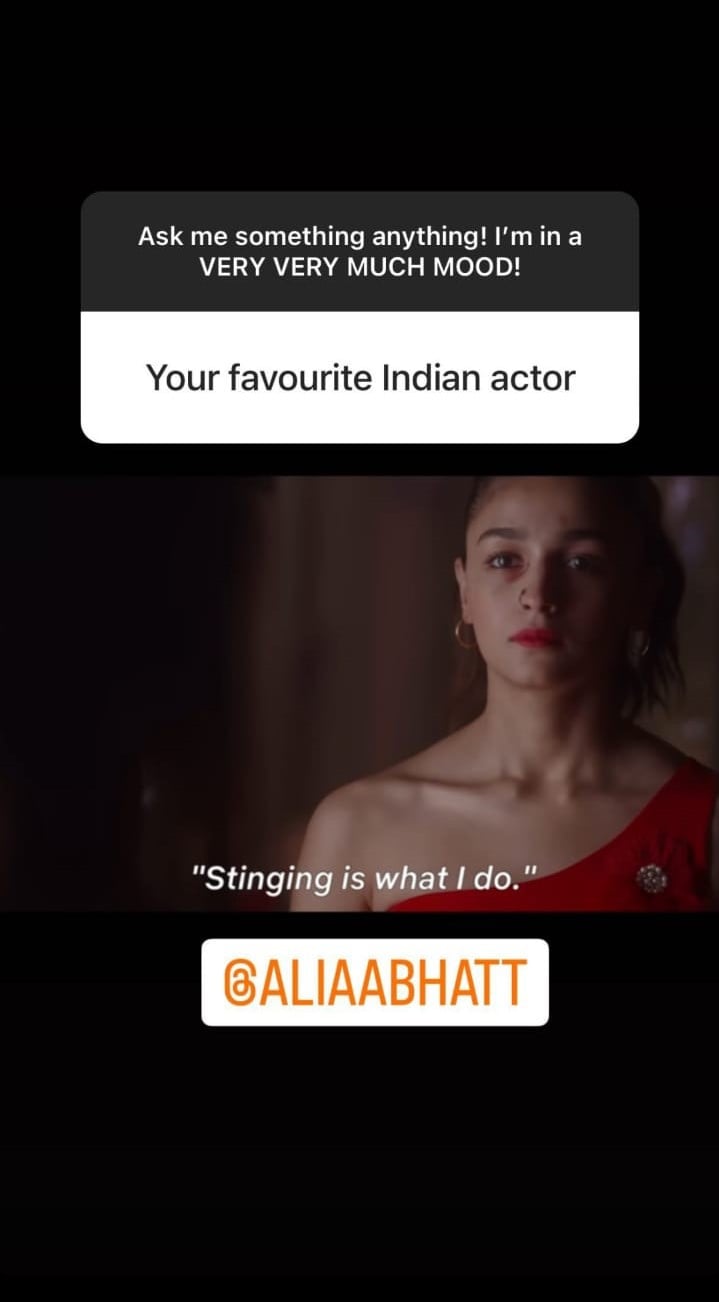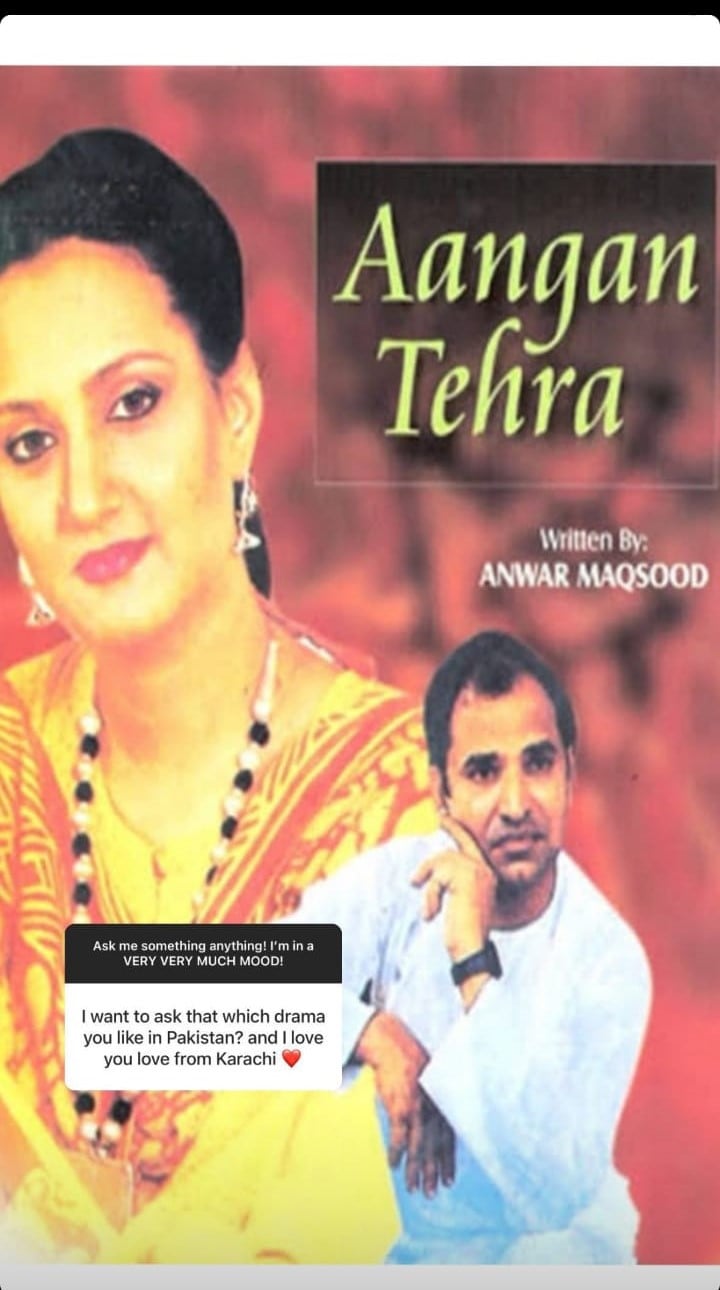 She then also took the chance to reveal the mystery behind her radiant skin,  when a follower asked about the secret to her beauty. "Can you please tell me your favourite skincare products?" asked the fan. The starlet had only one product: Loreal Hyaluron Expert Night Cream Mask.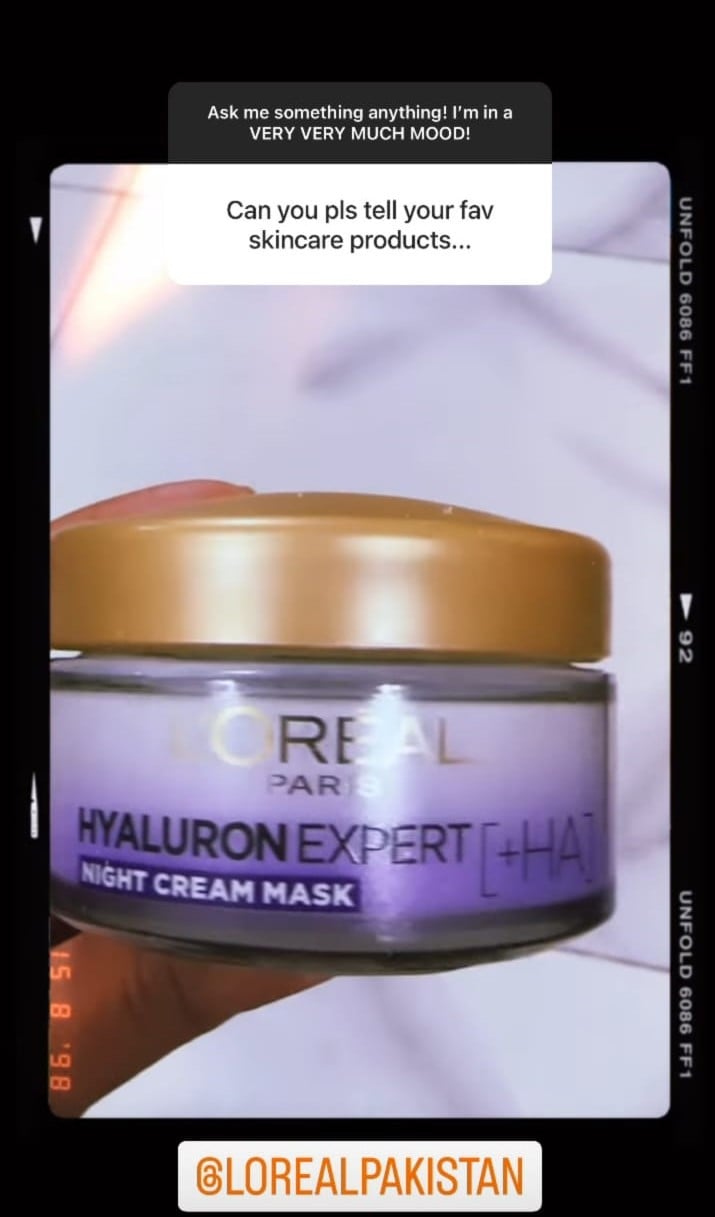 Drifting away from the serious queries, Iqra also showed her witty personality with a few responses, "What is your nickname?" said one follower, to which the actor showed a photograph of four fingers, implying that her name is already too short to have a pet name. "How much more should I reduce?" read the caption on the Instagram Story.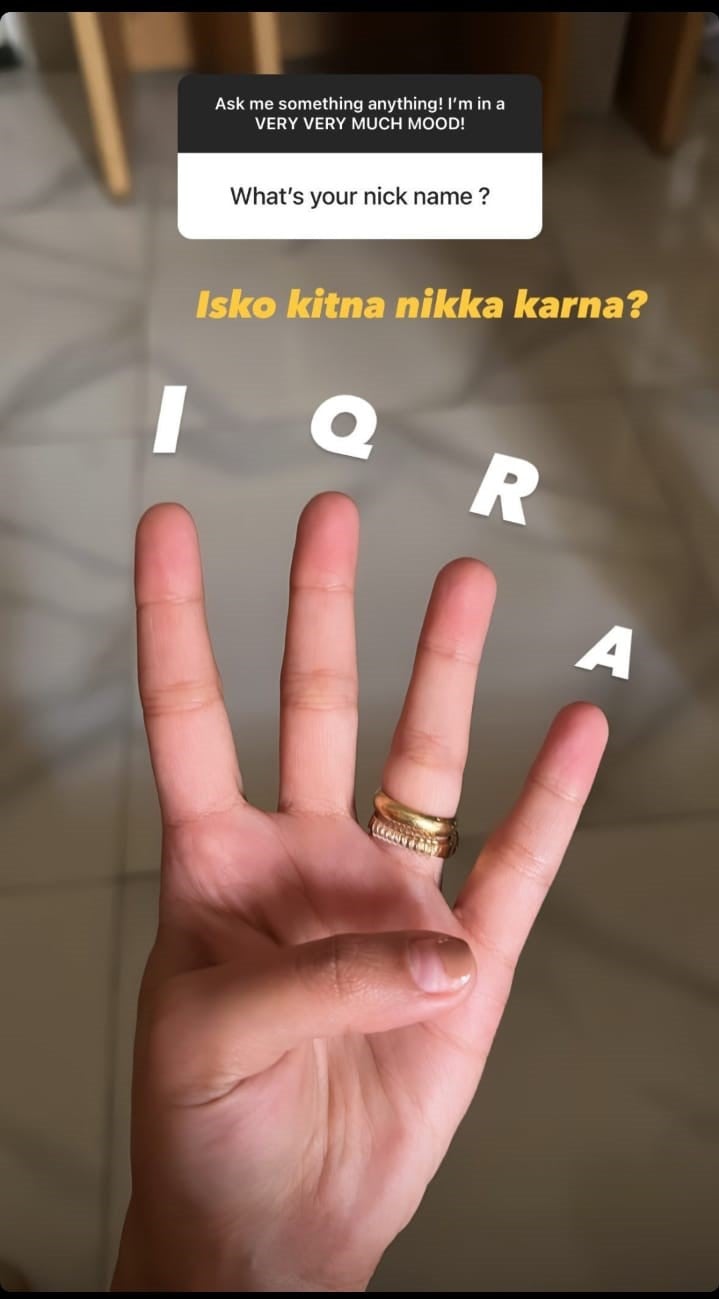 "What do you do for a living?" said another user. "Breathe," replied the Aik Thi Laila star jokingly. "How do you maintain yourself?" inquired another follower, to which Aziz playfully responded, "Just eat biryani and be happy!"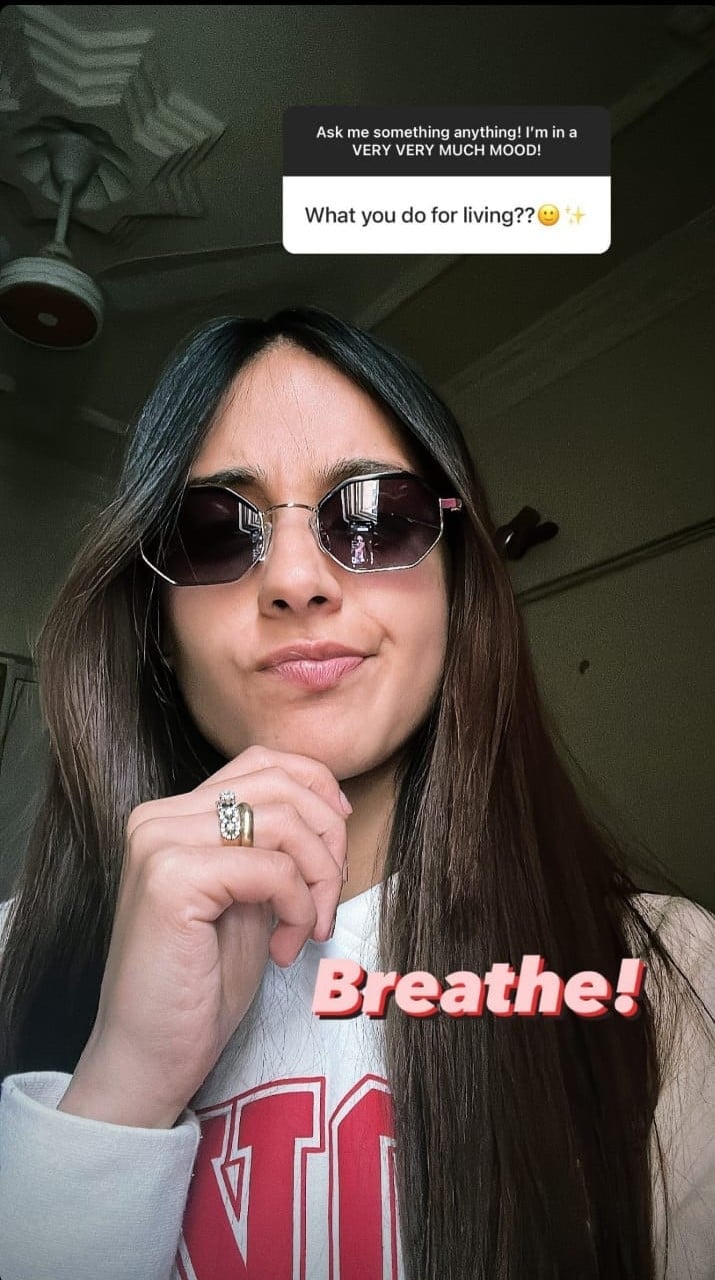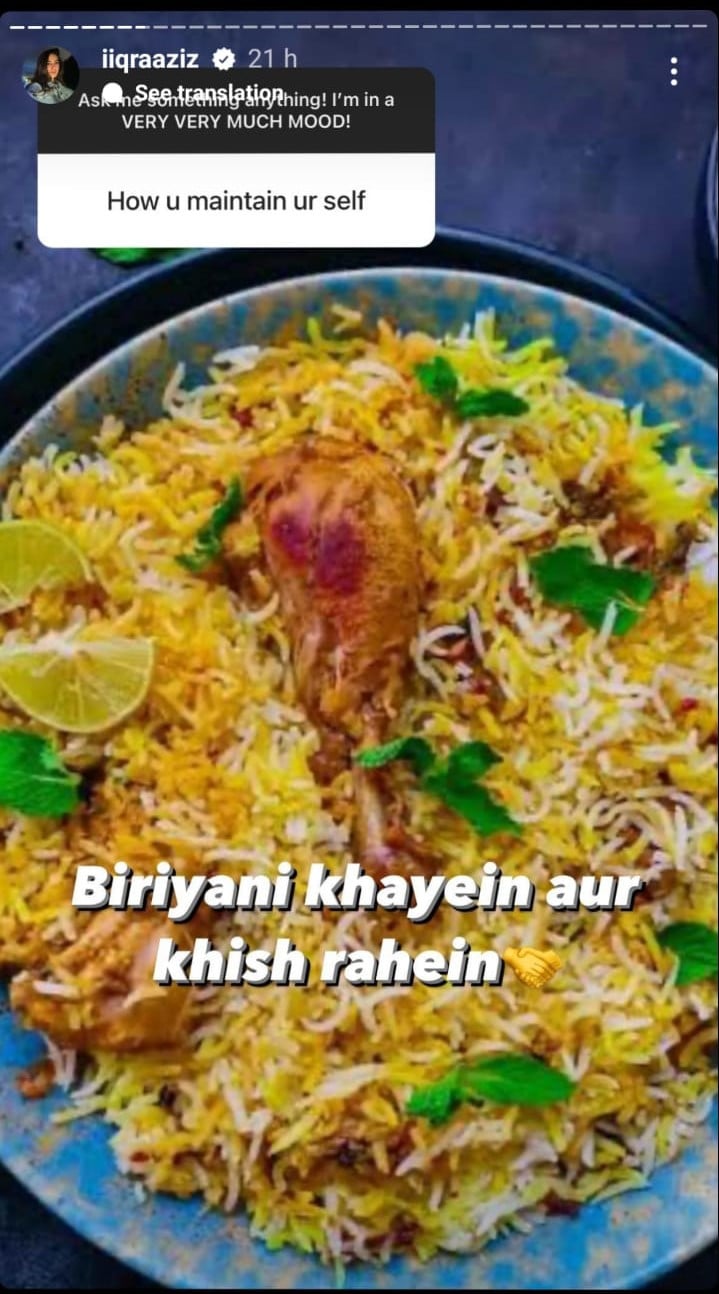 Suno Chanda remains to be one of the most memorable comedy dramas on television in Pakistan and beyond! Taking the chance, an Irani fan also expressed their love for the drama. "I don't understand your language but we see your dramas. Dear Iqra Aziz, lots of love from Iran. Suno Chanda!" penned the user, and yes, the actor was very grateful for the praises. "Thank you so much! Art knows no boundaries," she said.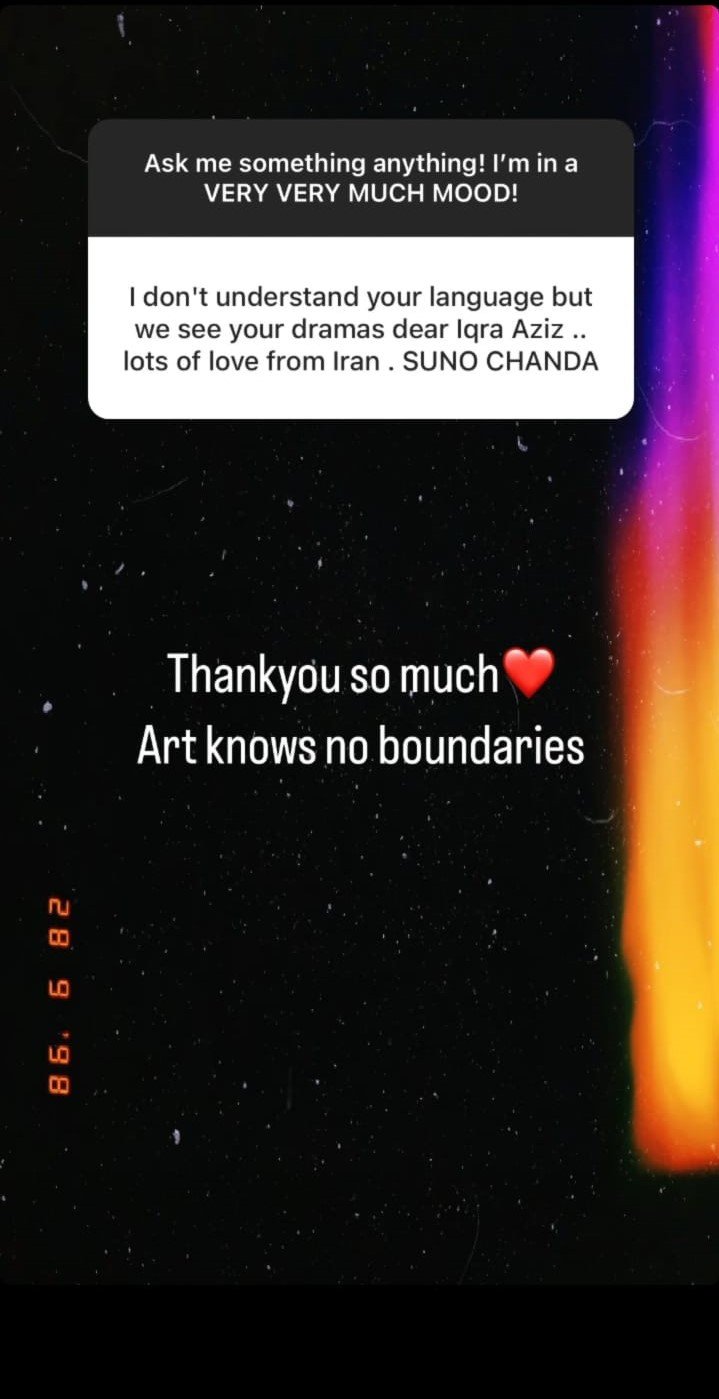 Being a Ramadan special series, a follower proceeded to ask if she would be interested in another play similar to Suno Chanda. "Once Chanda, always Chanda!" replied Aziz.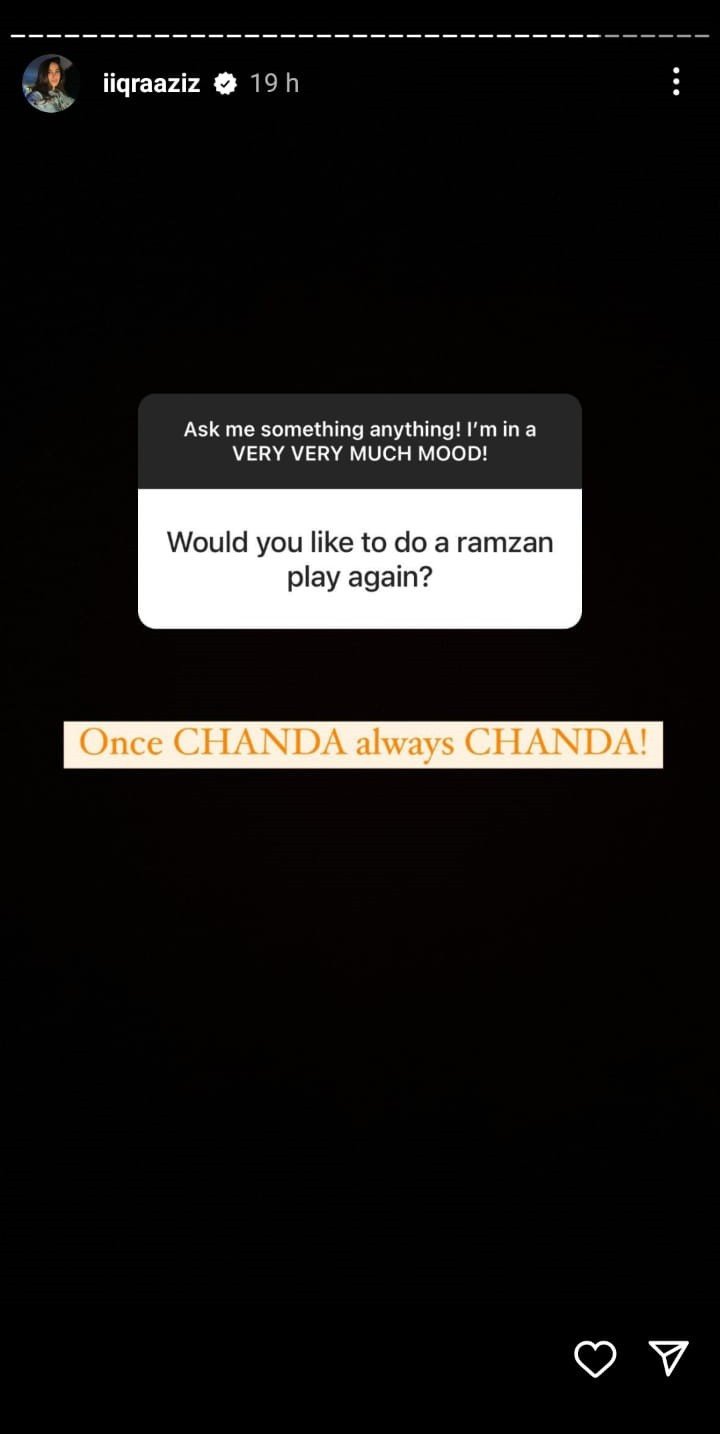 Given the massive hype for the drama, many fans were eagerly awaiting a third part of the series. Finally, Aziz put the buzz to rest during the session. "Us, while, everyone is asking when is Suno Chanda 3 coming?" she wrote while sharing a picture of her and Farhan Saeed sitting with confused expressions, implying that even they are not sure.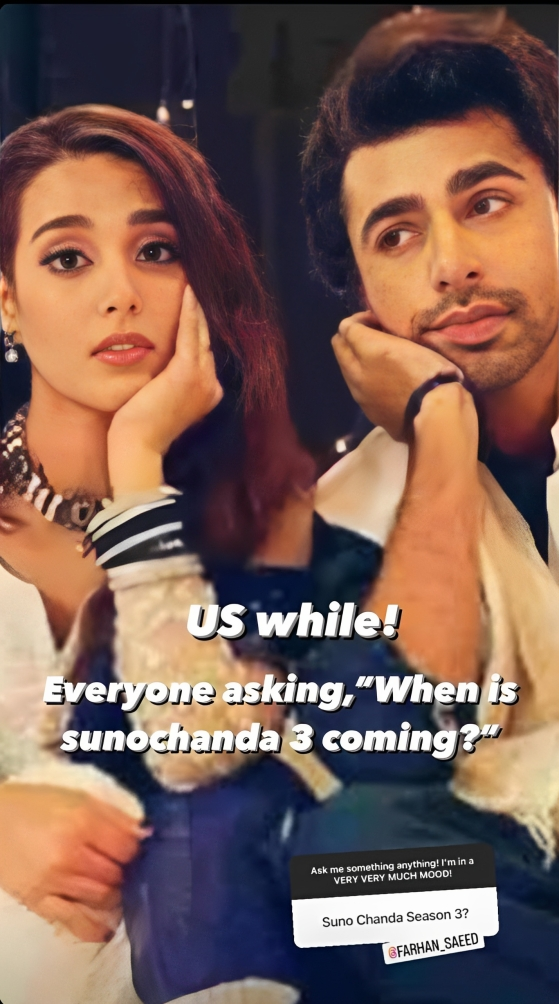 Iqra also revealed that Saeed remains to be her "favourite co-actor," as he's a "darling human being." Other actors such as Hania Aamir and Talha Chaour received recognition in their Instagram Stories.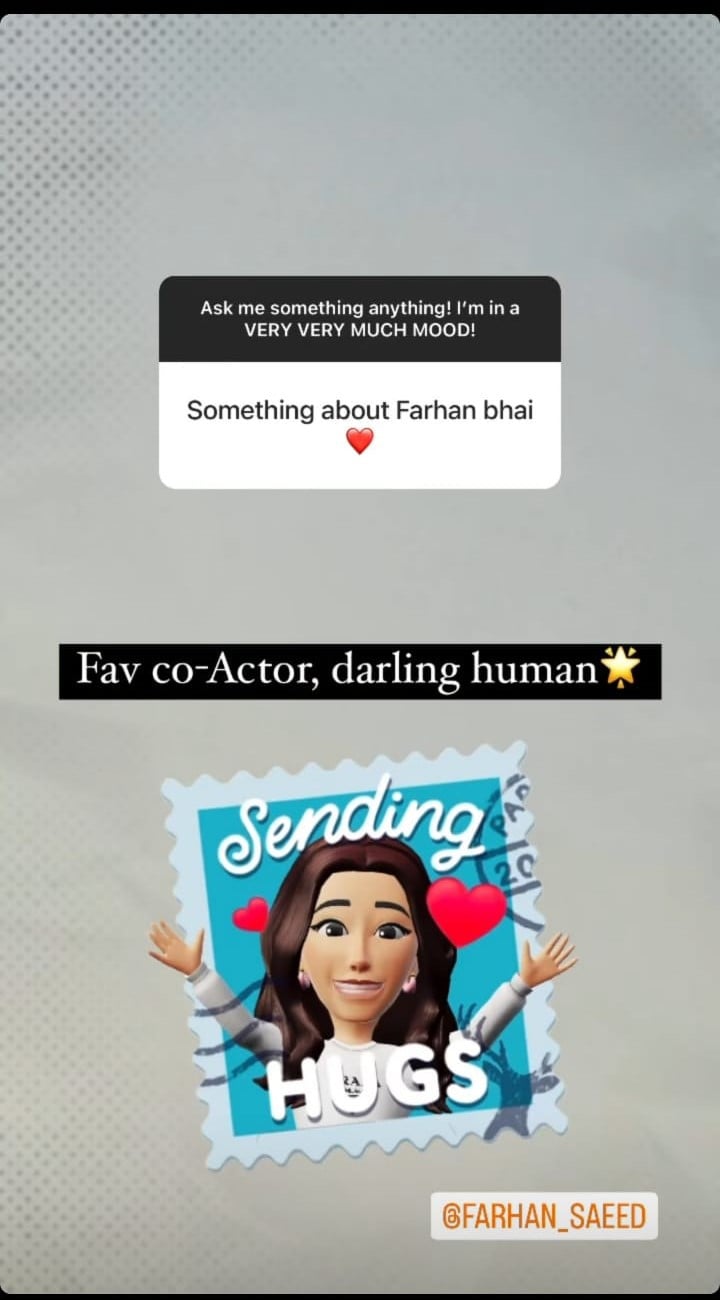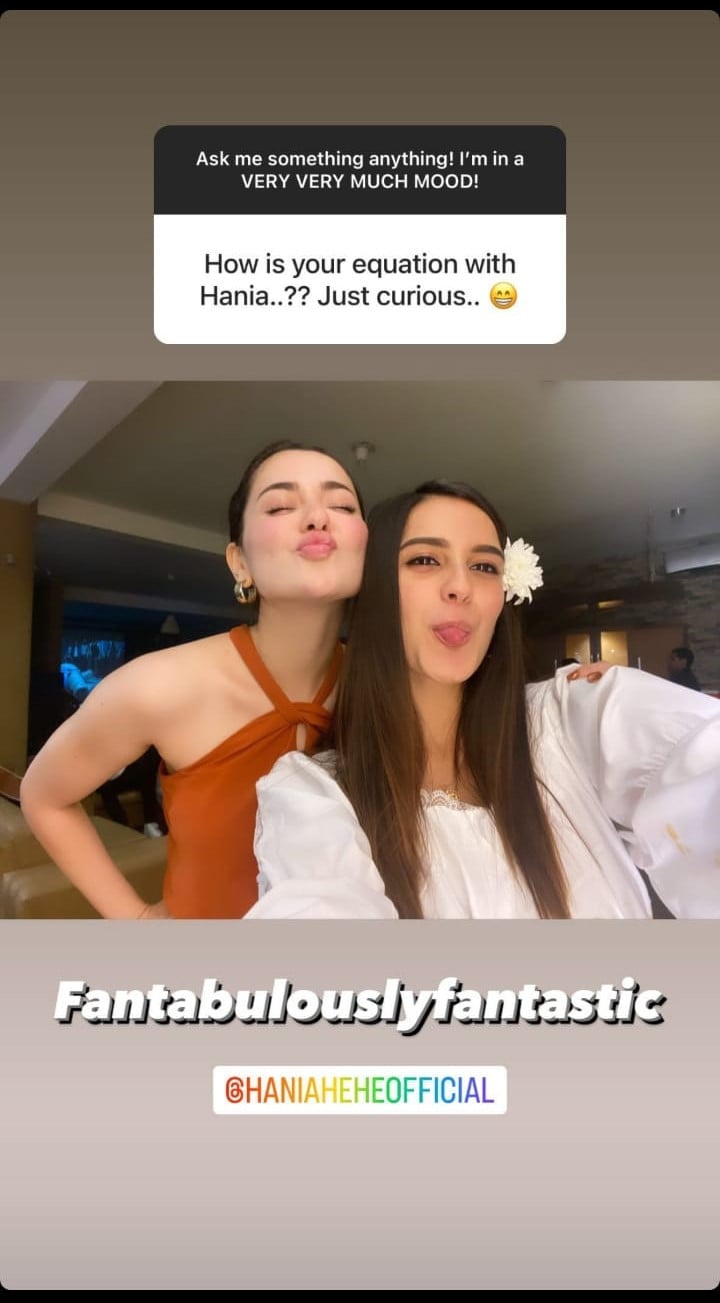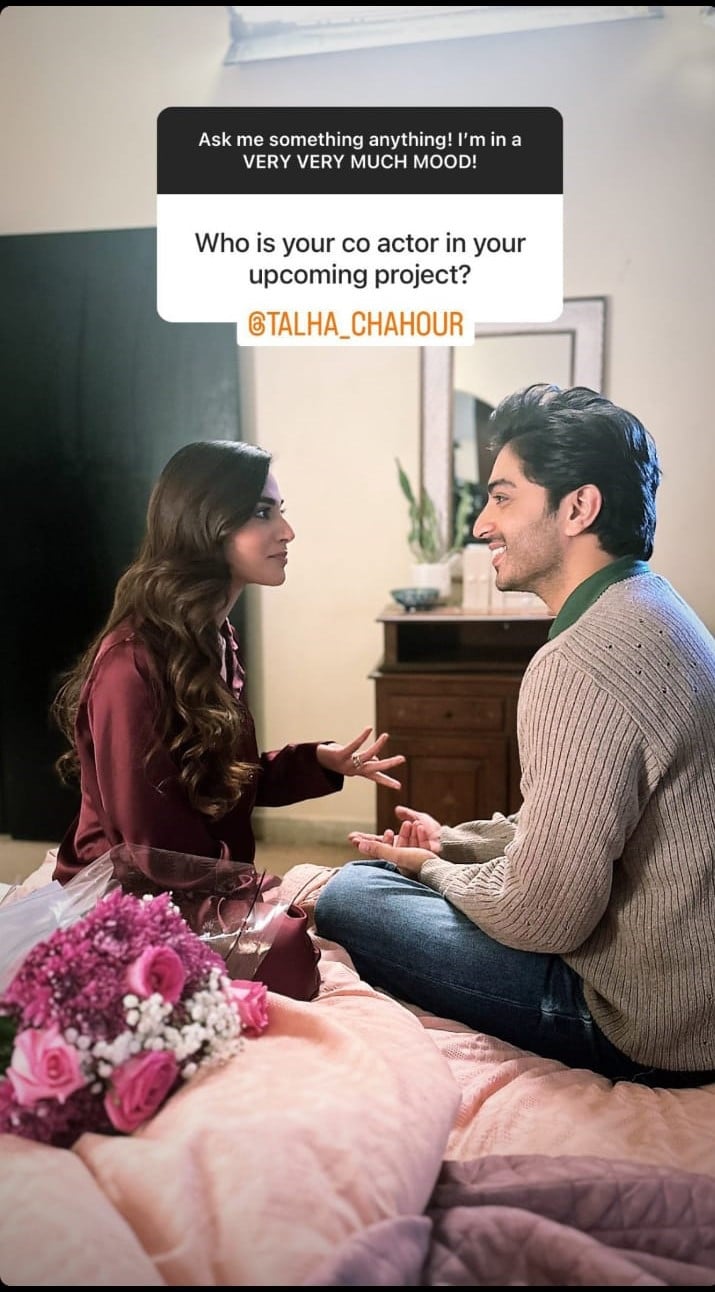 Of course, the actress wouldn't do a tell-all without sharing a glimpse of her beautiful family. By calling Yasir Hussain her "forever crush" and sharing numerous videos of her son Kabir Hussain, the diva confirmed that everything is going great as ever in her married life.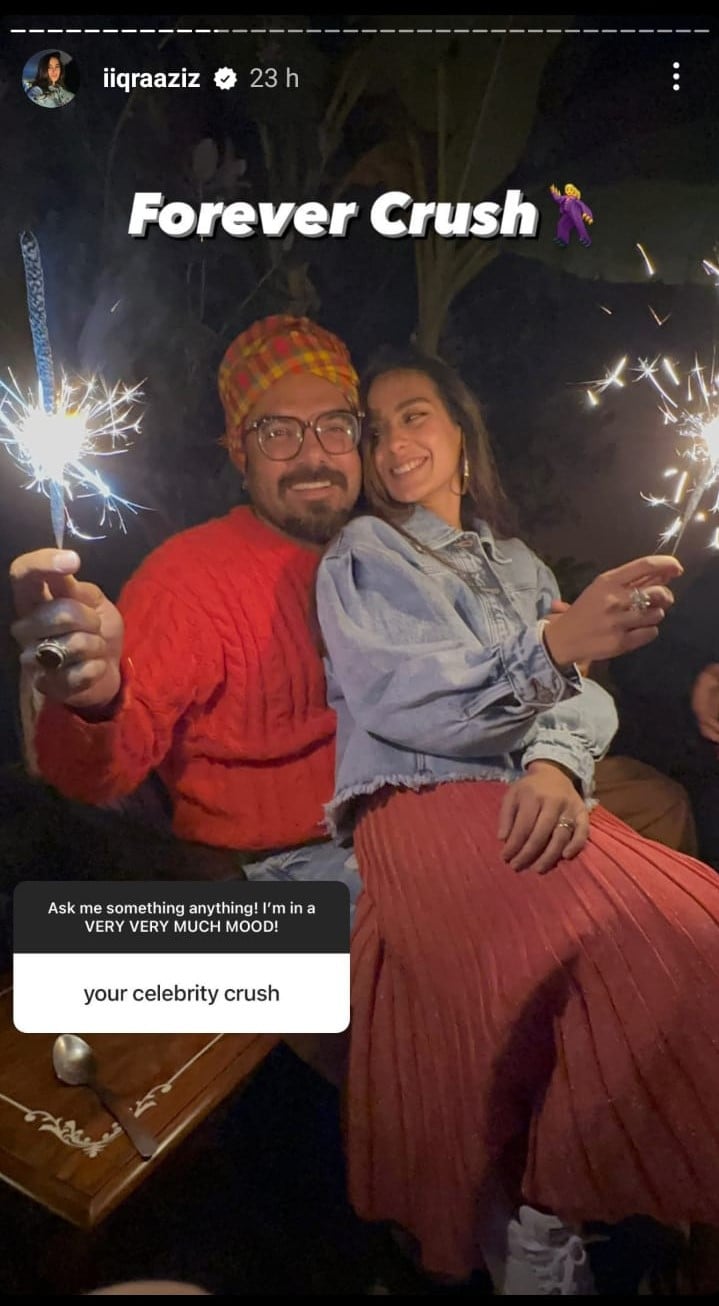 Before concluding the conversation, Raqeeb Se actor also disclosed her plan to return to YouTube. "Editing is in the works!" she stated after a user asked her about her future endeavours.